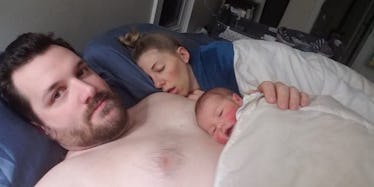 Dad's Brutally Honest Advice For New Parents Goes Viral: 'Be Her Dream Husband'
Imgur
Whether you have a child or know someone who does, you're probably aware that caring for a newborn isn't exactly a walk in the park.
A father who recently entered the exhausting world of parenthood just shared a piece of vital advice for new dads -- and it's short, sweet and to the point.
He posted a picture on Imgur of his newborn baby on his chest while his wife was fast asleep next to him, and his caption will take you on a rollercoaster of emotions you didn't even know existed.
First, he said,
After winning a battle with testicular cancer last year we finally got our first born son.
He continued,
*pro-tip* Real men take care of their baby while mommy takes as many naps as she needs. She's been through an ordeal! Suck it up guys and be her dream husband!
BE. HER. DREAM. HUSBAND.
OK, so... I guess decent dudes do exist. Where can I find one?!
Seriously, though. The fact that this man is letting his wife sleep peacefully next to him while his newborn rests on his chest proves he deserves to be Dad of the Year and Husband of the Year.
As a woman who's lost faith in Prince Charming, he's restoring my faith in love and making me feel like it's possible to eventually find my "dream husband."
Apparently, other Imgur users felt the same way because a flood of admiring comments followed after he posted the photo.
Some of them congratulated him for beating cancer, while others supported his new parenting endeavors.
One user named Artemisa91 commented,
Congratz on telling cancer to fuck off! And also for the beautiful baby! My best wishes for the three of you.
Another user added,
Thank you for letting Mom sleep!!
Honestly, his caption should be added to parenting handbooks across the nation.
If anyone is worried about how to act as a new father, all they need to do is "suck it up" and "be her dream husband."
Citations: Dad's Candid Photo With His Wife and Baby Encourages Men to Be the "Dream Husband" (Popsugar)