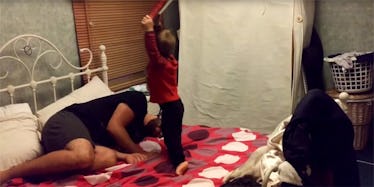 Dad Hilariously Performs Some Crazy WWE Finishers On His Young Son (Video)
There are two reasons I'm really looking forward to having my son.
One: To finally go back to college and dorm with him (it wouldn't be awkward for me).
Two: To perform WWE finishers on him when his bones get strong enough.
This one lucky dad is already at that stage with his Pokémon son, and it looks like the most lit sh*t ever.
Of course, I'd let him get some shots in just to boost his confidence, but if he brings home anything less than an A on his report card, he's getting a Rock Bottom on his Legos.
Just kidding!