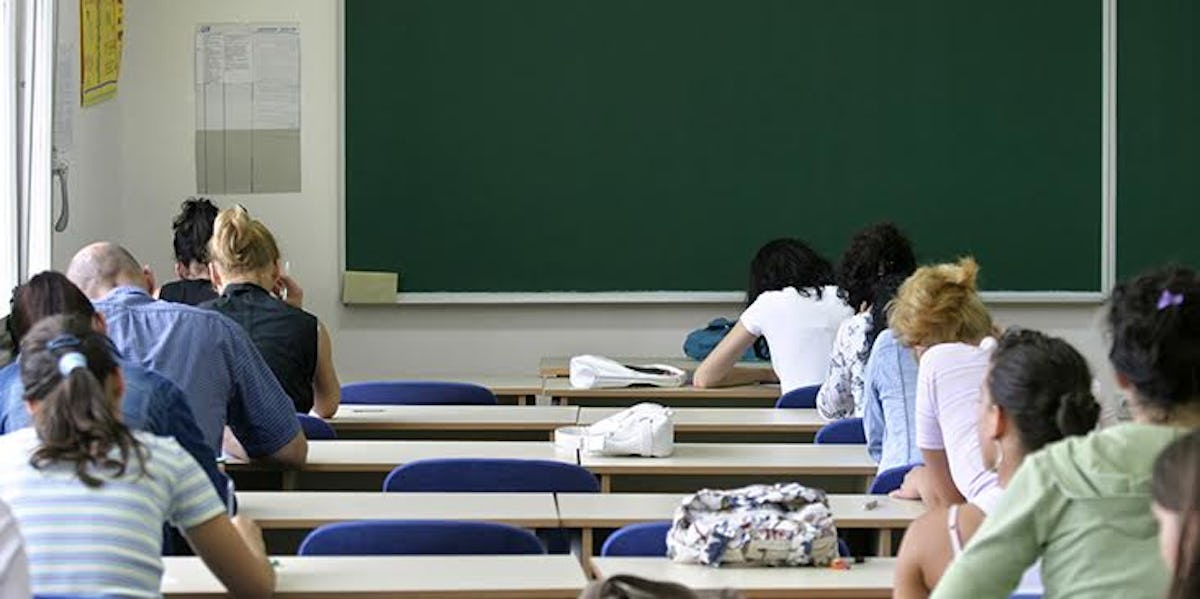 This Dad Crashed His Daughter's First Grad School Lecture And Twitter Is Dying
Fotolia
In a week filled with awful, heart-wrenching news – one teensy, tiny shred of sunshine has appeared.  An adorable tweet about a dad crashing his daughter's college lecture managed to make pretty much the entire Twitterverse a completely gleeful, temporarily united space. I think we should all be forever grateful for this.
Basically, it all started when a student group-texted her family, complaining that her father had shown up to her oral history class at New York City's The New School. To be fair, he was due to head back to Texas, but couldn't fly back there because of Hurricane Harvey, so he definitely had some free time on his hands. And while his daughter panic texted everyone, saying he needed to get out of the classroom, he was having a grand time. He started snapping selfies, took his own copy of the syllabus, and then refused to leave.
From a purely objective standpoint, this is absolutely hilarious and I have nothing but a sweeping affection for this man. On the other hand, if my dad ever randomly showed up to my class and started taking selfies, I would pretend to be ill, leave the room and then possibly transfer schools.
The dad's son, Omete Anassi, tweeted out a screenshot of the family text conversation, which swiftly gained 69,000 likes and more than 22,000 retweets in the span of a single day.
Just look at how happy he is. It also appears that he is FaceTiming the rest of the family while they're both in class. And that he decided to show off a range of different emotions in his selfies. Annnnnd that he potentially wore a nice jacket just for class. There's really so many great things to unpack in this.
Some people could completely relate to the embarrassment of it all.
But the majority just wanted to show some love for the dad.
I would like to extend a sincere thank you to this entire family for putting these texts out into the world. But, again, this is not to be viewed as an endorsement for parents to now attend their children's various academic/social events uninvited. So, uh, please don't, Dad.