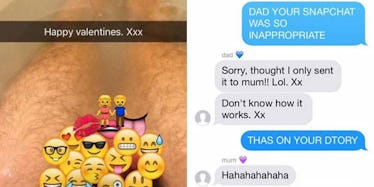 This Dad Gives Zero F*cks When His Daughter Sees His D*ck Pic On Snapchat
Someone needs to host a social media seminar for baby boomers ASAP.
DudeComedy, bastion of all unrealistic sext scenarios, recently shared a wildly uncomfortable iMessage exchange in which a teenage daughter was forced to lecture her father on when and where NOT to share nudes.
Robyn Millen checked her father's Snapchat story on Valentine's Day unaware she was about to see something clearly meant for her mother's eyes only.
The 18-year-old texted her father to warn him he posted his bath-time selfie to his Snapchat story, but he was unrepentant.
Naturally, Millen shared screenshots to Twitter like any scorned child. The tweet since reached well over a million viewers.
The most unbelievable part of this whole story is a middle-aged dad with Snapchat, but photographic proof suggests one does, in fact, exist.
Citations: Daughter Receives Fathers Dick Pic on Snapchat Then Puts Him on Blast (DudeComedy)