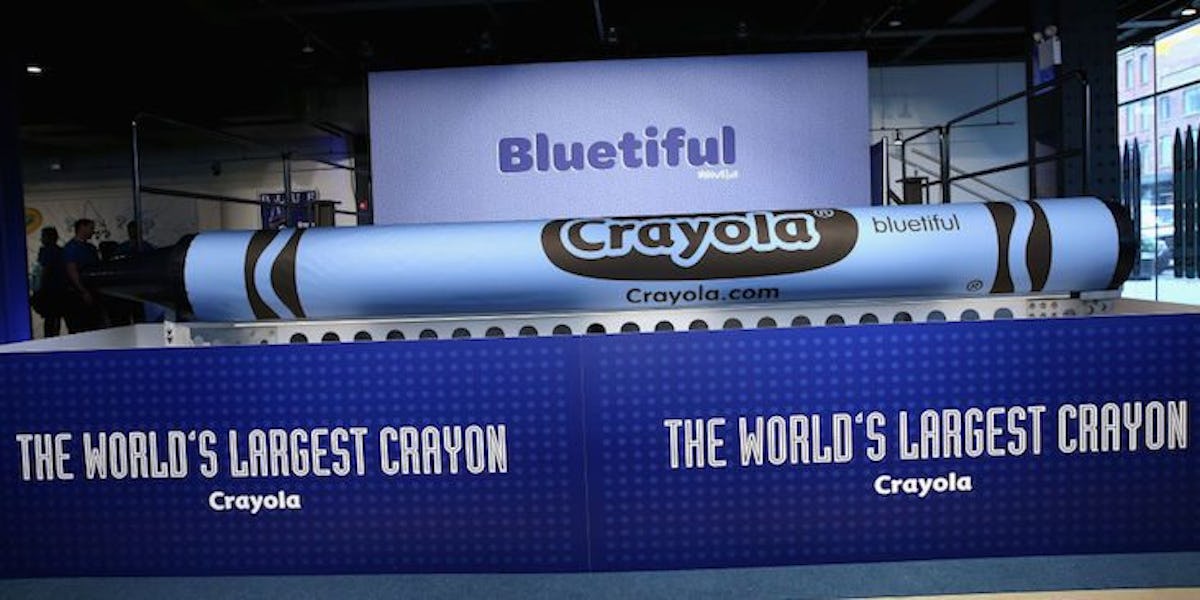 Crayola Introduced A New Blue Crayon To The Pack And Its Name Is So Beautiful
Bennett Raglin / Stringer / Getty Images
You're probably already done with your back-to-school shopping (if you had any), but you may want to make another trip down the art supply aisle after reading about Crayola's latest news. The crayon company just introduced a new color to freshen up your 24-pack. Crayola's new blue crayon is called "Bluetiful," and you'll want to get your hands on a coloring book pronto to try it out.
According to ABC News, Crayola embarked on the naming process months ago by having fans submit their best ideas. They received over 90,000 submissions, and then finally narrowed it down to five finalists in July. Before announcing today that Bluetiful is the winner, the other options included Blue Moon Bliss, Dreams Come Blue, Reach for the Stars, and Star Spangled Blue. Crayola took to Twitter to let crayon fans everywhere vote on which name they'd like to see wrapped around the newest blue crayon.
According to Crayola's press release, 40 percent of the votes went to Bluetiful, and it will be the nineteenth active blue color in your 24-pack. Not only did the company reveal the big name news today, but the company also created the world's largest crayon to celebrate. The towering crayon was unveiled today in the new Bluetiful color, weighing 1,352 pounds and measuring 15.6 feet long. That was enough to give Crayola its first Guinness World Records title for "Largest Crayon." The celebration continued as globally recognized dancer Leon "Kida" Burns performed upbeat and creative dance numbers. Bluetiful seriously knows how to party.
Crayola also provided some more fun facts about the new crayon. According to the Crayola website, when Bluetiful isn't being so formal, she goes by the nickname "Bea." She also enjoys coding apps and DIY projects. While she may be shy at first, she becomes inspired when talking about creative projects and new inventions. When it comes to school, Bluetiful is a "big advocate for arts-infused STEAM (Science, Technology, Engineering, Arts, and Mathematics) education, especially for inspired girls like me!" Sounds like this crayon is woke -- with both beauty and brains.
Crayola was inspired to create the new blue shade after the discovery of a new pigment called YinMin. According to Oregon State University's website, scientists at the university accidentally discovered YinMin, which they refer to as "MasBlue," in 2009. The discovery occurred when graduate student Andrew Smith heated manganese oxide to 1,200 degrees Celcius hoping to get a new, high-efficiency electronic material. But instead, it resulted in a "brilliant blue compound."
The team was led by Mas Subramanian when they discovered the pigment containing the elements Yttrium, Indium, Manganese, and Oxygen. Crayola loved the new hue, so you have these guys to thank for the latest addition to your stress-coloring session.
It's a good thing that Crayola finally came out with a new color, because die-hard fans everywhere were recently heartbroken when the company announced in March of this year that the color Dandelion would be retired from future packs of crayons. It was the first time in the company's history that color was removed from its fellow crayon companions for good.
It's time to turn those frowns upside-down because Bluetiful is here, and all is well in the crayon-loving world. You might want to run out and buy a new pack of Crayola crayons right this minute to see what's new with the latest crayon, but you have to wait just a little while longer to hold take Bluetiful for a test drive.
According to Crayola's press release, the color will be available nationwide in January 2018. If you can't wait, though, you can pick up Bluetiful exclusively at Walmart, Walmart.com, and Jet.com in early November -- just in time for the holidays.
You just might have to add a coloring session to the agenda for your next girls' night. Bluetiful would totally approve.