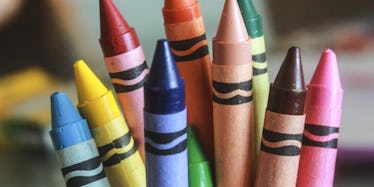 Crayola Is Retiring The Best Crayon Color From Your Childhood, So Life Is A Lie
Shutterstock
Growing up, there was no better feeling than buying a fresh new pack of Crayola crayons.
I remember opening a 24-pack, admiring the sharpened tips and filling up dozens and dozens of coloring books on the reg.
As kids, we were emotionally attached to a good set of Crayolas -- and now, our hearts are breaking over the loss of one.
In honor of National Crayon Day, Crayola announced the sad news that one of their beloved colors is retiring from the 24-pack.
You've probably used him in the past to color in a sun, a banana or even a lemon.
His name is Dan. D -- but you might know him as "Dandelion."
It's true: Our favorite shade of yellow is retiring from the iconic Crayola pack, and people are torn.
Crayola posted a video on Twitter on March 30 to publicize the news, using an animation of "Dan. D" talking about all the exciting things he's been doing throughout the years.
He ended the segment by saying, "I think retirement is going to be my wildest adventure yet."
This is the first time ever a color has been kicked out of the Crayola pack, and people have expressed how devastated they are to see it go.
People think they should've gotten rid of white instead.
"This is a mistake."
What are we going to use to color in sunny pictures?
"Why would you do this?? Wrong wrong wrong!!"
Heck, kids are already writing emotional notes for "Dandelion," claiming they'll miss the color so much.
"Who are we going to color the sun with? Please don't leave."
Luckily, Crayola dedicated a section of their website to Dan. D, so people can purchase yellow memorabilia to celebrate the retired color.
Even though it's hard to say goodbye to "dandelion," Crayola will ease the pain with a new color that will replace the golden-yellow shade on Friday.
In my opinion, no one can replace Dan. D. We'll miss you, man. Good luck with retirement.
Citations: Crayola Is Retiring One of the Colors From Its 24-Crayon Box (US Weekly)