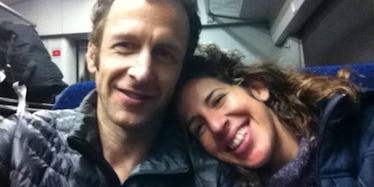 Couple Who Met After An Airbnb Mistake Ties The Knot In The Company's Lobby
How did you meet your significant other? As adorable as the story of your first encounter might be, I bet Ben and Noa Glass have you beat.
See, apparently, these two newlyweds met because of an Airbnb mistake, so it was only right they decided to tie the knot in the lobby of Airbnb's headquarters in San Francisco.
As the story goes, Ben, a San Francisco native, was looking for a last-minute booking in Tel Aviv, Israel and found a rental listed by, yup, you guessed it, Noa.
Ben was reportedly digging the description of the unit and tried to book with Noa, only Noa was in Brazil and forgot to make the apartment unavailable on Airbnb.
Anyway, Ben found another rental in Israel, but Noa was "feeling horrible about the mistake," so she asked Ben to join her at a coffee shop in Israel before he returned home. You see where this is going, right?
Ben ended up delaying his trip home to San Francisco and the pair continued to stay in touch for the next few years, including traveling to visit one another in person.
Ah, love.
One thing led to another and, well, naturally the couple wanted to get married at Airbnb's headquarters in 'Frisco, because if it wasn't for the rental service, Ben and Noa probably would've never crossed paths.
Speaking with SF Gate, the couple said,
We wanted a private marriage ceremony but in a place that would be meaningful to us, [and] the Airbnb office seemed like a cool idea since we had met through Airbnb two years ago. We loved the Airbnb atrium and headquarters. We had great help from the staff and one of the founders, Joe [Gebbia].
Apparently, Airbnb employees got wind of the ceremony and couldn't help but pop in and take a look at the beautiful couple.
The cherry on the top? Airbnb gave Ben and Noa quite the wedding gift: $5,000 in Airbnb credits to use towards their honeymoon.
Citations: Couple who met through Airbnb gets married in the company's SF lobby (SF Gate)