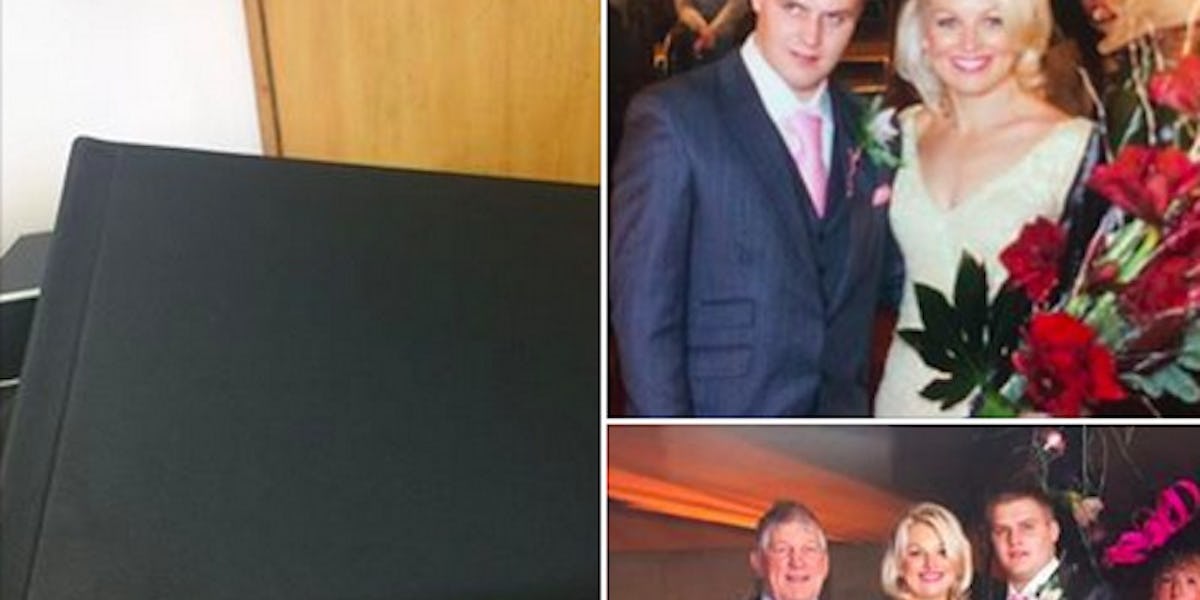 Cops' Adorable Plea To Return Couple's Lost Wedding Album Goes Horribly Wrong
Facebook
The police of West Yorkshire in the UK thought that they were doing a good deed.
They posted some photos on Facebook of a wedding photo album that had been recovered from a garbage can (or as the Brits call it, a "bin.")
They wrote in the post,
Does anybody recognise these people? A beautiful wedding album featuring them has been found dumped in a bin and we'd love to reunite the owner with it!
People began speculating about the album in the comments of the Facebook post.
The top comment read,
Maybe she (or he) put it in the bin on purpose....
Someone asked why the police thought that the owners would want the photo album back. The department responded that the album had been found in a bin that doesn't belong to the owners, therefore making it seem like maybe it was stolen or something similar.
They said,
Someone handed it in to us as it was in his bin!
Speculation continued on Twitter, where someone again asked if it could've been thrown out after the couple had split up. The police department appeared to be beginning to have their doubts:
@FellbertaJo Seems to be everyone's theory!! In someone else's bin though...!! Hope it's nothing messy — Kirklees Rural (@WYP_KirkRural) September 21, 2016
After several hours, the mystery was solved. All of the police department's high hopes about love suddenly disappeared.
It turns out that the couple did NOT want the photo album back.
The police updated the original Facebook post, saying,
MYSTERY SOLVED....Thanks for all your shares and detective work! Looks like it will be staying with us [cringe emoji]
They added on Twitter that it was #awkward...
Someone confirmed in the comments on Facebook that the couple had split up, which is exactly why they didn't want the album back.
Although the police department may not believe in love anymore, they did take the experience in stride.
At least SOME people are optimistic.
Citations: Indy