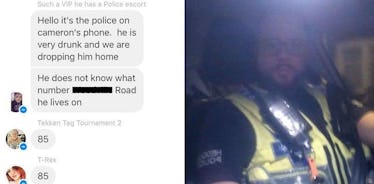 Cop Crashes Group Chat In Most Awkward Way After Finding Their Drunk Friend
Twitter
It's not every day a witty police officer pops into your group chat with a selfie -- but when they do, it's pretty awkward.
If a cop made a guest appearance in one of the group chats my friends have going, my first thought would be,
SHIT, GUYS. What did we do?!
(I'd also be mildly embarrassed because my friends are weird AF. I say that in the most loving way possible.)
That wasn't the case for Lawrence Court and his pals in their group chat because a police officer crashed their conversation for a pretty important reason.
The cop who messaged them was caring for their drunk friend Cameron, and asked everyone in the chat what his address was, but everyone thought it was a joke.
He texted the group chat, and said,
Hello it's the police on Cameron's phone. He is very drunk and we are dropping him home. He does not know what number [road name] Road he lives on.
Almost immediately, Court and his friends answered the officer with Cameron's house number and the cop thanked them for their cooperation.
However, some of the members became skeptical of the situation and started questioning the officer's legitimacy.
The cop answered once more, affirming that he'd get their friend home safe.
He said,
We will get him home safe now. Don't forget to thanks your friendly neighbourhood officers at Cathay's station.
The group chat still wasn't buying it, and started called "bull shit" on the officer.
To prove his point, the cop decided to take a selfie and send it to the group chat to confirm that he was actually caring for their friend who'd blacked out.
I'd say that's a solid confirmation he's actually an officer.
After the cop sent his selfie, the group thought it was hysterical but soon realized the severity of the situation.
Court talked to Mashable, saying,
When the selfie came through we were in hysterics, it was so funny! Then it was a case of making sure that he was okay so some friends went to check on him!
When asked what the police did after dropping their drunk friend off, he said,
We don't actually know and neither does Ron. I assume they put him to bed and continued their shift!
Court recently shared the screenshots on Twitter and the conversation already has over 64,000 retweets.
If I was ever blackout drunk and in need of a police escort home, I'd hope this guy would come to the rescue -- and I think Twitter definitely agrees.
Citations: Police interrupt students' group chat in the most spectacular way (Mashable)