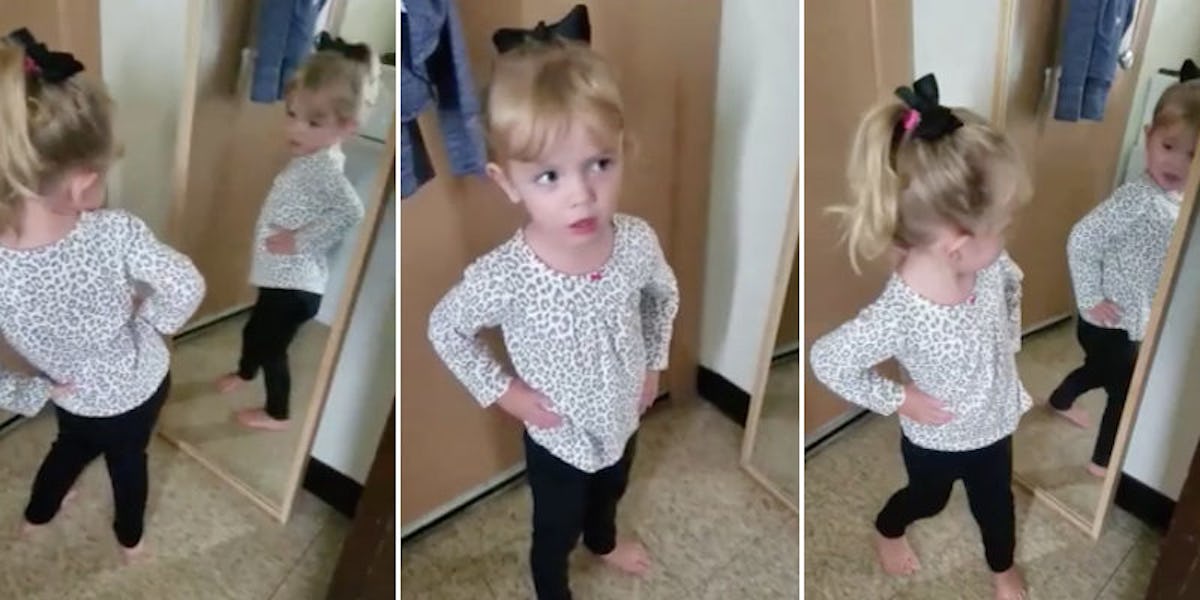 Confident Little Girl's Hilarious Pep Talk Will Motivate You In Any Situation
Facebook
If you ever need help getting through your day, just watch this video of an adorable little girl from Michigan giving herself a pep talk in the mirror.
Jamie Rabaut, who lives in Mount Pleasant, Michigan, posted a video of her daughter last Tuesday, which has since gone viral.
In the video, little Audrey, who is around 3 years old, has her hands on her hips and talks to herself in the mirror as her mother films.
"I'm cute, I'm cute, I'm cute," the little girl tells herself as she poses in the mirror.
When her mother tells Audrey, "You're beautiful," she responds, "No, I'm cute," before repeating, "I'm cute and beautiful."
Jamie then compliments her again, saying, "And you're smart." Audrey adds the adjective to her list, and tells herself in the mirror, "I'm cute and beautiful and smart."
At the end of the video, Jamie tells her daughter, "You're perfect."
After the post went viral, Jamie explained on Facebook that Audrey really is an inspiring little girl.
She radiates love and positivity and I love that that also reflects upon how she feels about herself. I am a better person just for having her in my life.
And it seemed like Audrey really did brighten up a lot of people. A facebook user commented on the post,
I love it. She's absolutely correct. This is priceless, love her to pieces.
Sometimes all it takes is a reminder that we are all cute, beautiful and smart.
Citations: Mail Online