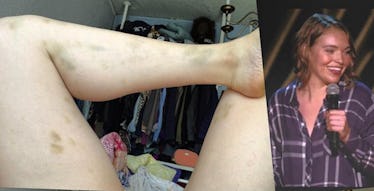 Female Comedian Opens Up About Abuse, Rape With Emotional Instagram Photo
From the outside, one would assume comedian Beth Stelling just had the best year of her life.
In 2015, Stelling released her stand-up record, "Simply the Beth," and starred in a Comedy Central "Half Hour." Her career certainly hit a few highs, but behind the scenes, Stelling's personal life was unraveling.
On Monday, the comedian shared a dark, sad and truly emotionally revealing Instagram photo showing not only her smiling face while on stage, but also photos of her arms and legs covered in bruises she had received at the hands of an abusive partner.
In part, her post reads,
When I broke up with my ex this summer, it wasn't because I didn't love him, it was because of this. And I absolutely relapsed and contacted him with things I shouldn't have, but there are no 'best practices' with this. When friends or comics ask why we broke up it's not easy or comfortable to reply; it doesn't seem like the appropriate thing to say at a stand-up show, a party or a wedding. It's embarrassing. I feel stupid. After being verbally, physically abused and raped, I dated him for two more months. It's not simple.
Beth goes on to explain how her ex asked that she not mention him in her standup because "everyone knows who you're talking about." At first, she says, she abided his wishes. But soon she realized that this was her story, not his. Beth adds in her post,
So now I'm allowing this to be part of my story. It's not my only story, so please don't let it be. If you live in LA, you've already started to hear my jokes about this and I ask you to have the courage to listen and accept it because I'm trying. Already since talking about this onstage, many women have come to me after shows asking me to keep doing it. Men have shown their solidarity.
Nearly 5.3 million incidents of domestic violence occur annually among US women over the age of 18. If you're one of them, you don't need to stay silent. Click here to learn more about getting help, or helping someone you know.