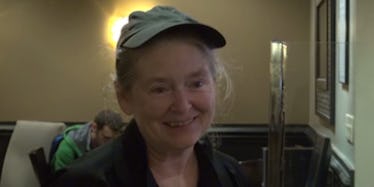 College Students Make Favorite Cafe Worker's Disney Dreams Come True (Video)
To the students of Elon University, Kathryn Thompson is more than just the woman working the cash register at the Acorn Coffee Shop.
Thompson, who has worked the night shift at the on-campus cafe for almost a decade, is the friendly face students need during their late-night caffeine-infused study binges.
That's why the students of Elon were so ready and willing to return the favor and help bring a smile to Thompson's face with their own sweet surprise: a fully paid vacation to Disney World for her and her family.
Students Lucy Smith-Williams and Taylor Zisholtz lead the charge, asking students to donate just $1 each on a GoFundMe page.
As to why she felt compelled to give Thompson such a generous gift, Zisholtz told Elon Local News,
I really took to her warmth. She was very invested in where we were from, what we were doing, and when she said 'it's my dream,' I thought, 'well there's 6,000 people here with at least a dollar. We could probably make this happen.'
The students have already surpassed their goal of $6,500. Check out the moment they surprised Thompson with the trip in the video above.
Citations: Watch College Students Surprise Beloved Cafe Worker With A Dream Trip To Disney (Huffington Post)