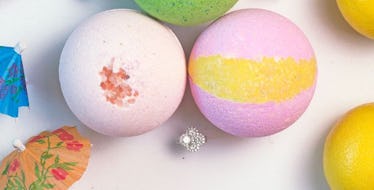 You Need These Cocktail-Inspired Bath Bombs For Your Next Boozy Bubble Bath
Courtesy of Pearl Bath Bombs
Soaking in the tub is about as relaxing as it gets, but adding a cocktail-inspired bath bomb to the mix only makes the experience even more refreshing.
Lately, it seems everything is getting the cocktail treatment, so it should come as no surprise that our favorite drinks are making their way into our beauty routines.
Pearl Bath Bombs has gifted us with three different bath bomb scents: Peach Bellini, Frosted Margarita, and Pink Lemonade. Each one of them provides the perfect combination of summer and relaxation that we all need after a long day.
No need to wait for happy hour — your empty bath tub will certainly do the trick.
Let's start with the Frosted Margarita.
If this is the go-to drink you order during a girls' night, then you're in luck.
Don't forget about the Peach Bellini.
If you skipped out on Sunday brunch, this is the perfect way to get your fix. Peach Bellinis are just as delightful in your evening bath as they are over scrambled eggs with friends.
Make sure you try the Pink Lemonade.
It's not summer without a little lemonade, and this playful scent perfectly captures the spirit of the season.
I'm sure you've noticed an extra perk with these bath bombs: a rose gold, sterling silver, or gold-plated ring. These products not only make for a perfect way to relax, but they're also the thank-you gifts all bridesmaids will appreciate.
You might not be the one saying "I do," but that's no reason not to treat yourself like a princess with these bath beauties. Visit Pearl Bath Bomb's website to get one — or all three — of these delightful products.
Happy tubbing, ladies! Make sure you sip on a cocktail that matches your bath bomb during your relaxation time.