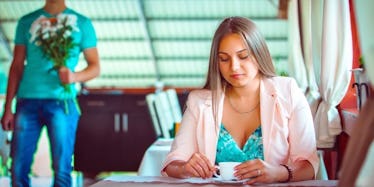 If You're Looking To Get Engaged, You Should Move To One Of These US Cities
Getty Images
Wedding season is approaching rapidly, and it doesn't care whether you're ready for it or not.
Luckily, Whisper gathered proposal statistics from its 20 million users just in time for National Proposal Day on March 20 to get you in the spirit for either committing to a life with the person you love or rolling your eyes so hard, they detach and fall out of your face.
The most "proposal talk" nationwide is happening this very moment in Greensboro, North Carolina.
A majority of lovers prefer to take the plunge in public.
Pear-cut diamond rings, as usual, cannot seem to get the love they so deserve.
Despite National Proposal Day taking place this month, chatter over proposal plans happens most in December.
Get ready, Greensboro. All 279,639 of you are about to get proposed to publicly with a square-cut diamond your partner bought during Christmas.
OMG, CONGRATULATIONS!!!