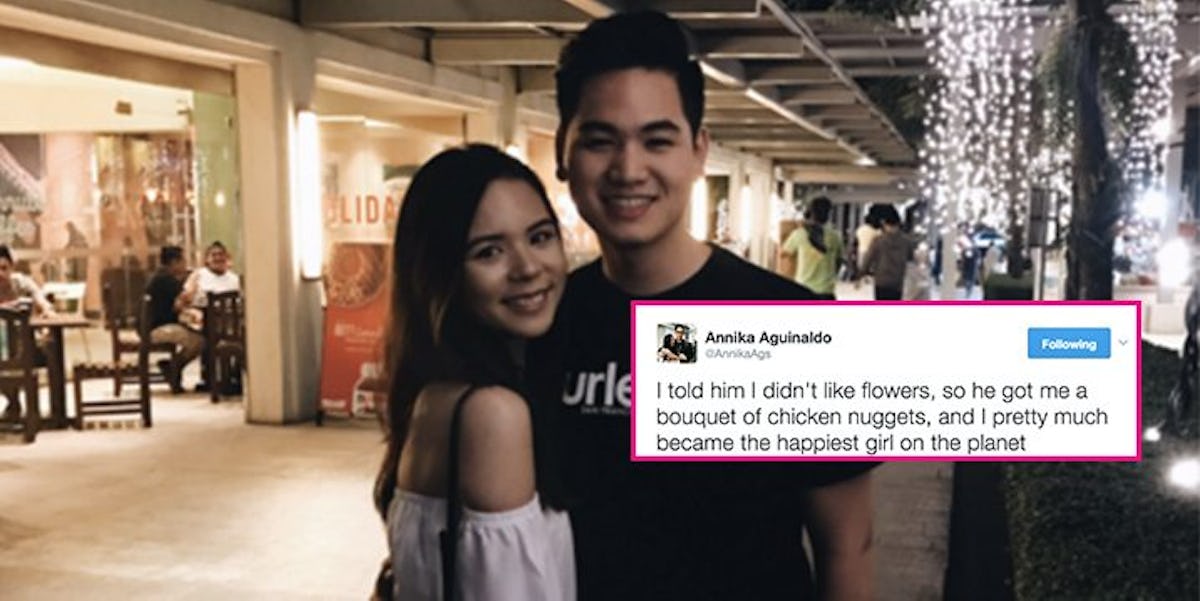 Guy Who Gave Lucky GF Bouquet Of Chicken Nuggets Has Whole Internet Swooning
Twitter
The search for love is over, ladies.
We finally found the perfect boyfriend, and his name is Rico Villanueva.
Unfortunately, he's taken by 19-year-old Annika Aguinaldo, and it looks like he's deeply in love.
In fact, his latest gift for Annika has us convinced he's head over heels.
Rico recently surprised his girlfriend of two months with a bouquet of McDonald's chicken nuggets, and the internet is swooning over his tasty, romantic gesture.
And by "swooning," I mean we're all super jealous and wish someone would do the same for us.
I mean, look at them. They're perfect.
(I'm talking about the chicken nuggets, obviously.)
Upon receiving the nugget-flowers, Annika posted two pictures of herself holding the chicken bouquet after Rico surprised her with them.
In her tweet, she wrote,
I told him I didn't like flowers, so he got me a bouquet of chicken nuggets, and I pretty much became the happiest girl on the planet.
I don't blame you, Annika. I'd be the happiest girl on the planet if I got a nugget bouquet, too.
Before receiving the gift, Annika would joke with her boyfriend about wanting a bouquet of chicken instead of flowers... and she had no idea he'd actually follow through.
To her surprise, he did -- and he deserves a medal of some sort.
However, the thought of a romantic fast-food treat didn't come out of the blue.
According to Buzzfeed News, the couple met for the first time at a McDonald's and they've been giving each other fast-food-related gifts ever since.
SO. FREAKIN'. CUTE.
Luckily, one of the couple's friends came to the scene and captured the romantic nugget-flower moment.
After posting the pictures on Twitter, her tweet has already gotten over 39,000 likes and close to 10,000 retweets.
Needless to say, people are gawking over the nugget gift.
Same, girl. Same.
"Too cute."
He's a very "understanding man."
#Goals.
Go Annika!
"I need this kind of guy in my life."
After the tweet went viral, the fast-food loving couple was invited by McDonald's Philippines to have a romantic meal inside the restaurant.
I'm pretty sure a meal like that qualifies as the best date ever.
With Valentine's Day around the corner, I hope more and more boys realize that certain girls like nuggets more than flowers.
Bravo, Rico. Annika is a lucky lady.
Citations: BuzzFeed