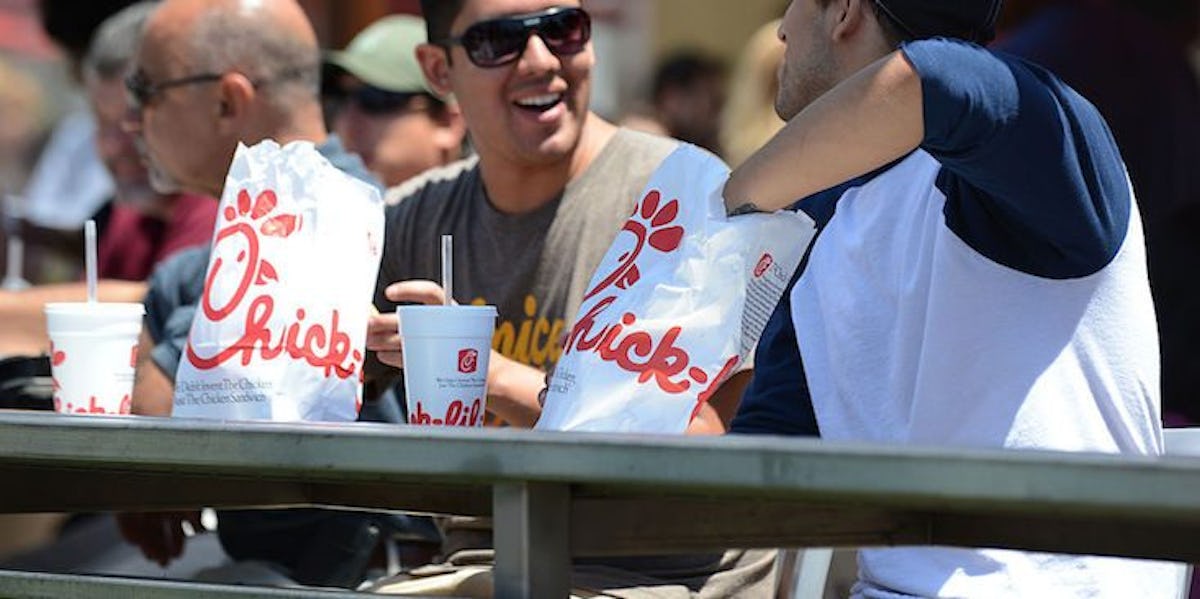 Chick-fil-A Will Give You Free Breakfast In September If You Do This One Thing
ROBYN BECK/Getty Images
Do you love Chick-fil-A? Does the thought of a Chicken Biscuit or Chick-n-Minis get you up in the morning? If you answered "yes" to any of these questions, you might be obsessed with the chicken-centric fast food chain, so here's how to get free breakfast at Chick-fil-A.
Starting Thursday, Aug. 31, customers who have an account on the Chick-fil-A One app — or create a new one — will be eligible to receive one free breakfast entree. What are you waiting for? Hop to your app store and get the Chick-fil-A app now. While that downloads, I think you should know which tasty breakfast items are up for grabs.
Aside from a Chicken Biscuit and Chick-n-Minis, you can get a Hash Brown Scramble Burrito, an Egg White Grill, or a Chicken, Egg, & Cheese Bagel. Check out Chick-fil-A's breakfast menu online. Now, don't wait too long before you redeem your free breakfast, because this promotion will only last until Sept. 30. So hurry up and get to downloading before it's too late.
Chick-fil-A is always looking to change things up and cater to its customers. The fast food chain recently released a breakfast bowl apt for those hungover mornings. The Hashbrown Scramble Bowl has everything you could want after overindulging in too much wine.
This delicious bowl is made up of eggs, hash browns, and — of course— chicken. Amanda Norris, Chick-fil-A's senior director of menu development, is very proud of this new menu item and said in a press release,
We've definitely seen an increase in popularity for breakfast bowls, and the Hash Brown Scramble combines two fan favorites. It is a great fit for those seeking a delicious and hearty breakfast that is also packed with protein.
Whether you're more into the classic Chick-Fil-A breakfast or want to try something new, download the app and get yourself a free Chick-Fil-A breakfast entree.