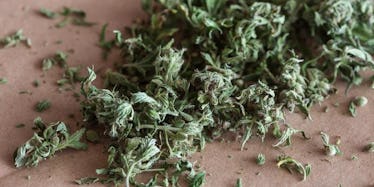 Jingle Bud: This Charity Gave Free Joints To The Homeless For Christmas
Getty Images
There's no doubt that being homeless is hard. But being homeless around the holidays — that really has to hurt.
Fortunately, over Christmas, those living on the streets in Denver, Colorado got a little something to help make the season a bit more cheerful: Weed.
According to the New York Post, Denver-based nonprofit Cannabis Can took to the streets on Christmas to hand out free joints to those in need. Altogether, the organization distributed 1,000 of 'em, along with flyers and business cards, in an effort to raise money for the homeless.
Using donations, the charity hopes to buy RVs to give to those in need of a home. They're also looking to provide free bathrooms and showers to Denver's homeless community.
Cannabis Can founder Nick Dicenzo explained,
'Cannabis can make a difference' is kind of what we're standing for. A lot of the people we spoke with really were just like, 'If I had regular access to a shower and a haircut, my life would be so much better. I'd have so much more opportunity.'
If you live outside of Colorado, don't expect Cannabis Can to be heading your way anytime soon: Currently, the state is one of only a few in which recreational marijuana is legal.
Fortunately, you can still join the fight against homelessness, even if you can't (legally) light up. Head to the National Alliance to End Homelessness to learn more.
Citations: Denver Charity Offers Free Joints for the Homeless for Christmas (Complex), Homeless stoners get free joints for Christmas in Denver (New York Post)