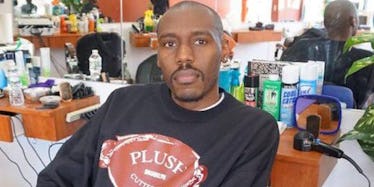 Creepy Married Teacher Asks Students If He Could Date Their Hot Relatives
Facebook
A Brooklyn public school teacher will eventually get his job back after being banned from his school by the Department of Education for asking students to set him up on dates with their relatives.
Terrell Williams was originally banned in 2013 for asking his female students if they had older sisters and even asking for their phone numbers, according to the New York Post.
His completely unprofessional behavior made female students uncomfortable, leading to one mom filing a complaint after finding texts from Williams to her daughter.
As if that wasn't bad enough, here's a reminder that HE'S MARRIED.
Back in September 2016, a judicial panel said Williams' actions using his students as mini matchmakers actually "did not violate any specific rule or regulation."
That being said, they settled on giving him three-and-a-half years of unpaid suspension — a more lenient punishment than the five-year suspension the Department of Education insisted on.
According to the dissenting appellate Judge Peter Tom, Williams, who made around $80,000 per year, "irreversibly abused his position as a teacher by transforming the school where he teaches into a dating forum using his young ­female students to search out candidates for his illicit romantic escapades."
However, Williams is still not pleased with his new punishment, arguing that it is "harsh and overly draconian."
In his own defense, Williams said there's no "credible evidence" he actually tried to contact the relatives of his students. And now, he's fighting back in Manhattan Supreme Court.
He wants to be able to return to work immediately or after a year-long suspension at most. Furthermore, he also wants a new arbitrator because he thinks the one he's had thus far is unfair.
Lisa Brogen, Williams' current arbitrator, is not a fan of his disgusting actions. Even when the appeals court decided to overturn his firing, she made sure to note his behavior still indicated "very poor judgment."
"By any measure [Williams'] inquiries to his students about their older sisters, his collection of photographs of those older students' female relatives and his use of his students to help him connect with these women is repugnant," Brogen said.
She backed up her claim by explaining that Williams never took any sort of responsibility for his "repugnant" actions, blamed his students for his own wrongdoings and even said he "did not believe that teachers were role models."
Right. Needless to say, Brogen is not a huge Williams fan. And I'd say rightfully so.
Teachers have the most important job in the world. They literally shape our future. There should be no room for this sort of inappropriateness and lack of integrity.
Citations: New York Post (Teacher who used students to date hot relatives gets job back)