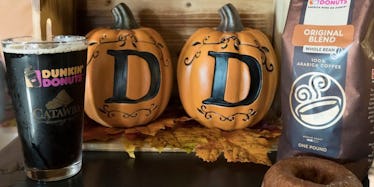 This Brewery Teamed With Dunkin' Donuts To Make "Dunkin' Punkin" Beer & We Need It
Drew Porcello/Pivot PR
It's finally National Coffee Day, which means many a coffee shop will be makin' it rain free cups of joe to their loyal customers all day long. Stores like Krispy Kreme, Cinnabon, and Dunkin' Donuts are all showing their customers appreciation by giving them free coffee, but Dunkin' Donuts is doing something extra on the special day. Aside from getting a free medium coffee — with the purchase of a medium coffee — Dunkin' is also offering loyal customers (and beer lovers) a taste of their first ever beer (which is also pumpkin-flavored). You're probably wondering where to get Dunkin' Donuts pumpkin-flavored beer, and the answer might involve catching a flight.
According to a press release acquired by Elite Daily, Dunkin' Donuts has teamed up with Catawba Brewing Company to create their first ever alcoholic beverage. The drink was creatively named Dunkin' Punkin Brown Ale — a cold brew pumpkin-flavored beer that uses Dunkin' Donuts flavorings to give it a special kick. However, I have bad news about this perfect autumnal brew: You will not be able to find it at regular Dunkin' locations across the country. If you want to try the Dunkin' Punkin, you'll have to visit the Catawba Brewery in North Carolina, and the drink will be available starting on National Coffee Day (today, if you haven't noticed yet).
Yes, really! But on the bright side, if you do find yourself in or near North Carolina, you can visit one of the four tasting rooms Catawba has in that state. And guess what? A dollar of every Dunkin' Punkin sale will be donated to a local North Carolina food bank called Second Harvest Maetrolina, meaning you'll be drinking for a good cause.
Free coffee and delicious beer pumpkin-flavored beer aside, Dunkin' Donuts has a lot more tricks up their sleeve for National Coffee Day. To celebrate NCD, Dunkin' and all of its franchises across the country will donate 14 tons ( or 28,000 pounds) of coffee to the American Red Cross, which is a longtime partner of Dunkin' Donuts.
In addition to all of that donated coffee, Dunkin' will also get techie this National Coffee Day by teaming up with Amazon to give Alexa a new skill: knowing everything there is about Dunkin' Donuts. With the Dunkin' Donuts skill for Alexa, Amazon echo users (and users of Alexa enabled devices) can test their Dunkin' Donuts knowledge by answering Dunkin' trivia questions asked by the device. To get started, enable the Dunkin' Donuts skill on the Alexa app by saying "Alexa, open Dunkin' Donuts." Answering these questions should help sober you up, if you over-indulge on Dunkin' Punkin.
If you consider yourself a know-it-all when talking about Dunkin trivia, then you probably already knew Dunkin' Donuts' Pumpkin coffee is here for the season. If you can't make it to North Carolina to try the Dunkin' Punkin and have a hankering for a pumpkin-flavored drink, the Pumpkin Coffee at Dunkin Donuts is definitely the way to go.
You can also opt for a Maple Pecan Coffee — Dunkin' Donuts' newest fall-time drink. When the MPC first debuted at Dunkin', they treated the customers to a treat. Dunkin' locations on "Maple" avenues, roads, and streets, gave away free medium Maple Pecan-flavored coffees (hot or iced). Wish I lived on one of those streets.
Dunkin' Donuts really goes big when it comes to holidays, and National Coffee Day is no exception. I'm inspired to book a flight to North Carolina so I can try that awesome pumpkin beer, but in reality, I'll just end up heading to my local Dunkin' for a free pick-me-up.
Check out the entire Gen Why series and other videos on Facebook and the Bustle app across Apple TV, Roku, and Amazon Fire TV.