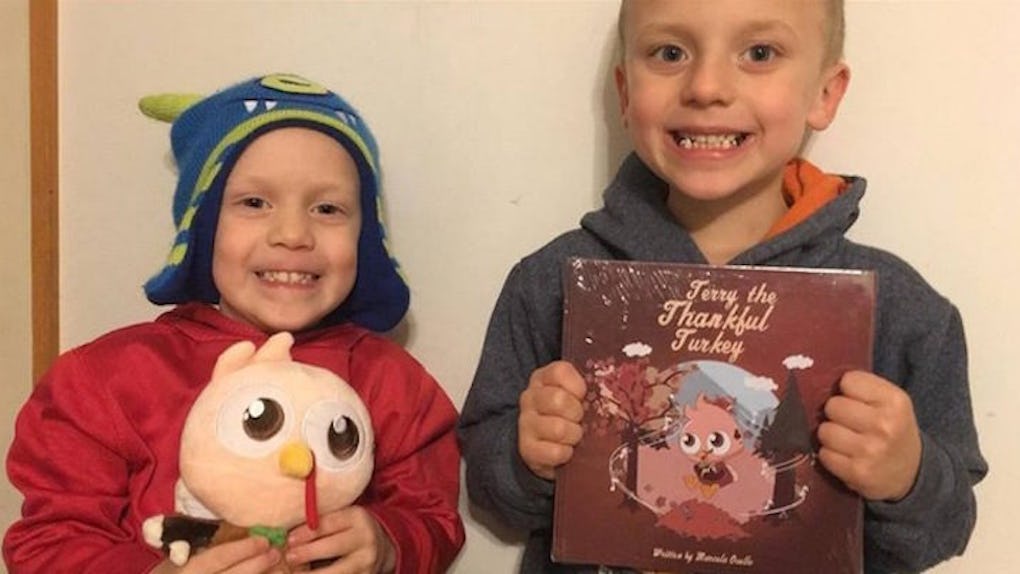 Reddit
Seeing Your Thanksgiving Turkey's Fate For The First Time
As a kid, there's nothing more exciting than celebrating the holidays.
Therefore, it should come as no surprise that most parents love to whip out the camera at every holiday gathering and capture the joyful look on the precious faces of their children.
However, a Reddit users who goes by the name ryancav recently uploaded a few photo of his two sons having a moment on Thanksgiving that is anything but cheerful.
In the first photo, you can see the two boys really getting into the Thanksgiving spirit.
These little guys grin from ear-to-ear as they pose for the camera with a Thanksgiving-themed story book titled "Terry the Turkey" and a matching Terry the Turkey stuffed animal.
Everything seems to be all hunky dory in this happy household.
However, things take a serious turn when these two curious kids wandered into the kitchen.
The second photo shows these little boys screaming in sheer terror as they peer into the open oven and see their feathery BFF Terry IRL.
No really, I'm not kidding.
These kids look like they've just seen some serious sh*t that can never ever be unseen.
Based on their reaction to the sight of the Thanksgiving turkey roasting in the oven, it's pretty obvious that these innocent boys had no idea that their beloved Terry the Turkey was actually going to be turned into the main course for their holiday feast.
I think it's safe to say that these poor, scarred souls are basically all of us when we first figured out where all of the delightful, gobbling turkeys ended up on Thanksgiving Day.
If there's one thing we can learn from this traumatized twosome, it's that sometimes it's better to not ask questions.
Because let's be real, what you don't know can only hurt Terry the Turkey, not you.
Citations: Boys' childhoods are ruined by discovery of Thanksgiving turkey's fate (Mashable), Reddit