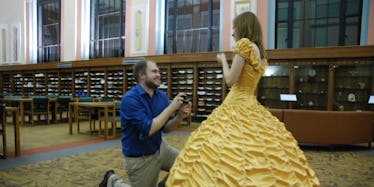 This Guy Recreated Belle's Dress For His Epic 'Beauty And The Beast' Proposal
Imgur
To paraphrase Lumière, this guy put his service to the test.
If you're thinking about proposing to your girlfriend, you can officially cross off "Recreate Belle's dress from 'Beauty and the Beast'" from your list of proposal ideas that haven't been done already.
Imgur user jel2930 knew his girlfriend was obsessed with Disney's "Beauty and the Beast" (duh, who isn't?) so he decided to bring the magic of the animated (and soon-to-be-released live-action remake) to life.
World, meet Cara.
According to jel2930, he wanted to make his proposal out of a fairytale. He wrote,
This is Cara, my best friend and partner in crime. She grew up admiring Belle from Beauty and the Beast. Wanting to recreate the famous scene, I decided to make her the dress to coincide with my proposal.
Well, apparently, the making of the dress involved the efforts of a "cheap sewing machine and a dream. And coffee. Lots of coffee."
Well, it looks like the caffeine definitely worked because the dress turned out flawlessly.
With 30 minutes to go before "Operation Proposal," jel2930 managed to finish the corset and sash.
With that finished, jel2930 wrote there was only one more step remaining,
Oh right, the ring. Don't forget the ring. Lesson learned? Shiny rocks are expensive!
Seriously, this ring looks like it's worth more than my life.
The proposal, which went down at the Iowa State Parks Library Periodical Room, also involved lights and music.
And just like how Belle eventually got together with the man-child-turned-gentleman Beast, Cara said "yes" to jel2930, who is definitely a gentleman and not a man-child.
Why a library? The new fiancé wrote,
She's an aspiring librarian, so luckily she mentioned she wanted to check out some books that evening.
Perhaps she checked out the book... "HOW TO DEAL WITH HAVING TO PLAN A WEDDING: OMG I JUST GOT PROPOSED TO," which is definitely a book and not a title I just made up.
All this proposal needed was a group of sentient household objects and appliances, and it's basically a perfect recreation of the Disney masterpiece.
I mean, you're doing something wrong if you're not twirling constantly in a dress like this.
This is all the evidence you'll need to prove that love is alive and well in 2017.
Citations: This Beauty and the Beast Proposal Will Melt Your Ice-Cold Heart (Cosmopolitan)