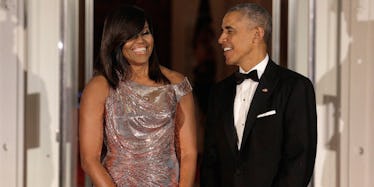 Barack's Adorable Happy Birthday Message To Michelle Will Give You Butterflies
REUTERS
If you've been following President Obama's final days in office, there's a good chance you've been riding a rollercoaster of emotions over the past few weeks.
We've sobbed during President Obama's farewell address, smiled as he gave us hope for the future and laughed when the president tweeted one last dad joke to NASA.
But it appears President Obama isn't done tugging at the nation's heartstrings just yet.
Obama just gave America all the feels once again by paying tribute to the first lady on her 53rd birthday in the cutest way humanly possible.
No, really, you might want to grab a box of tissues because if this doesn't bring on the waterworks, you basically have no soul.
Today, Barack Obama posted an adorable happy birthday message to Michelle Obama on Twitter that read, "To the girl from the South Side who took on a role she didn't ask for and made it her own: Happy Birthday, Michelle. I love you."
In addition to his sweet message, Obama also included a throwback photo that features the two riding in the back of a golf cart as they made their way to the first inaugural ball back in 2009.
@POTUS tears pic.twitter.com/G79ZrhK3HG — ㅤdottieㅤㅤ (@alIyourfault) January 17, 2017
During an interview with Vogue last year, President Obama talked about his wife, revealing,
Michelle never asked to be first lady. Like a lot of political spouses, the role was thrust upon her. But I always knew she'd be incredible at it and put her own unique stamp on the job. That's because who you see is who she is — the brilliant, funny, generous woman who, for whatever reason, agreed to marry me.
Now a lot of people are chiming in on Twitter and saying Obama's thoughtful birthday message is basically the cutest thing that's ever happened to politics.
Many Twitter users have taken a moment to send their own birthday wishes to the lovely first lady.
Others have used the president's tweet as an opportunity to highlight how he's the definition of a chivalrous gentleman.
We're certainly going to miss all of your adorable couple moments in the White House, Barack and Michelle.
Citations: President Barack Obama Pays Tribute to Michelle on Her 53rd Birthday: Photo (US Magazine)