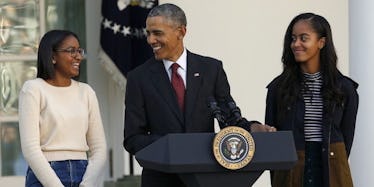 Obama Had 'One Last Dad Joke' As President And The Corniness Didn't Disappoint
Reuters
This week sent America on quite an emotional roller coaster.
As President Obama prepares to step down from his role as the 44th president of the United States, he's tugged at the nation's heart strings and given us hope for the future. However, teary eyes and insightful thoughts aren't the only things he has left us.
Apparently, President Obama also decided to give the gift of laughter by dishing one last dad joke. Trust me, this corny comment does not disappoint.
On January 13, the Curiosity Rover, a rover exploring Mars, wrote a tweet about carrying Obama's signature to the surface of the red planet, saying, "Signed, sealed, delivered. I carried @POTUS's signature to the surface of #Mars. #NASAPast8Years."
After seeing the tweet, President Obama clearly couldn't resist making one of his infamously corny dad jokes.
He responded, "That is out of this world. Thanks @NASA."
It didn't take long for the official White House Instagram account to take notice and poke fun at the president's comical comment. The account reposted the Twitter exchange and a caption that said what everyone was thinking: "One last dad joke."
This isn't the first time President Obama has shown the world that deep down he's just like all of the other dads in America.Obama has consistently supplied America with a corny-copia of dad jokes during the holidays.
#ICYMI: President Obama cracks dad jokes during final Holiday address from White House: https://t.co/J0twKwGjSL pic.twitter.com/mENU8lbCVJ — NBC Bay Area (@nbcbayarea) December 26, 2016
Who could forget the time he said, "Time flies, even if turkeys don't" while addressing the nation during the turkey pardoning ceremony?
Not to mention, Obama made us extra thankful for dad jokes during this year's annual ceremony, saying, "When somebody at your table tells you that you've been hogging all the side dishes, you can't have anymore, I hope you respond with a creed that sums of the spirit of the hungry people: Yes we cran."
The president even noted his daughters' absence from the Thanksgiving ceremony, saying, "[Sasha and Malia] just couldn't take my jokes anymore. They were fed up."
However, it appears Obama's daughters will have to put up with their father's jokes long after he leaves office, since Obama revealed, "What I haven't told [my daughters] yet is that we are going to do this every year for now on. No cameras, just us every year. No way I'm cutting this habit cold turkey."
Oh, President Obama! We certainly are going to miss you and your terribly cheesy dad jokes.
Citations: Barack Obama Has 'One Last Dad Joke' as President — and It's Hilarious (People)