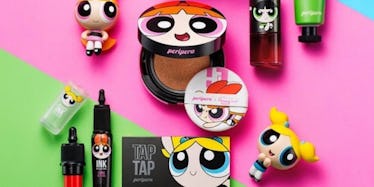 Badass Powerpuff Girls Makeup Just Made All Your Childhood Dreams Come True
Instagram
Blossom's my girl, and that's never going to change.
Maybe it's the red hair, her love for the color pink or her ever-so-sweet disposition, but she was always my favorite Powerpuff Girl when I watched the cartoon as a kid.
I loved 'em all, though. To this day, they're still some of the most badass chicks I've ever admired.
You know what makes them even more badass than they already are? Their own makeup collection!
That's right: A new line of makeup inspired by the crime fightin' ladies themselves has surfaced, and it's called the Peripera x Powerpuff Girls line.
A Korean beauty brand named Peripera came up with the genius idea, and it's making all of my childhood dreams come true.
According to PopSugar, the kickass new makeup collection was released late 2016. Quite frankly, I'm a little disappointed the holidays passed before I could put it on my Christmas list.
But hey, it's never too late fill your makeup bag with multiple variations of Bubbles, Buttercup and Blossom — and I'm about to stock up.
The new line comes with tons of different Powerpuff Girl-inspired products like eye shadow, nail decals, blushes, foundation, eye masks and hand cream.
It's a heavenly collection for anyone who was obsessed with the trio as child — aka me.
Apparently, it's also a great collection for anyone low on cash (aka me again) because the products are actually cheap AF.
Their prices range from $5 to $13, which makes for a much easier makeup purchase than a trip to Sephora.
Speaking of buying the products... I have some not-so-great news.
The Peripera x Powerpuff Girls line is only available in Korea, which might suck if you live on the other side of the world.
To solve this itty-bitty issue, you can log onto Amazon or eBay to purchase the makeup goods.
I don't know about you, but I'm already making room in my makeup bag for some Blossom swag.
The 10-year-old version of myself would be proud.
Citations: '90s Girls Will Freak When They See This Powerpuff Girl Makeup Collection (PopSugar)