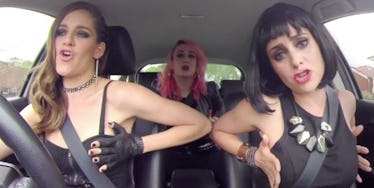 This Morbid 'Bad Blood' PSA About Lip Syncing Escalated Really Quickly (Video)
You probably won't be able to shake off the memory of watching this graphic sketch-PSA on lip syncing to Taylor Swift while driving.
Sometimes sketch comedy is uproariously funny. Sometimes it awkwardly misses the mark. And sometimes it's flat out terrifying social commentary that ends with seeing three people suddenly die on screen.
I'll let you decide where this parody video falls on that scale.
An important message for the online community...Featuring SketchShe... #BadBloodLipSync Posted by Skit Box on Sunday, October 11, 2015
Hilarious?
Female comedy group Skit Box produced the short, which features fellow female sketch group SketchShe.
The intense sketch -- does it count as it made me shudder with horror? -- was uploaded yesterday and already garnered over 1.3 million views, although it isn't the first time Skit Box has had one of its videos go viral.
Its far less graphic sketch "Activewear," which was uploaded in late September, was a smash hit, currently boasting 5.6 million views on Facebook and a small sequel featuring Ellie Goulding.
But three people didn't die on camera in that sketch, so we'll see if this newer one gains the same positive response from the public.
Citations: This Lip Syncing PSA Went Viral And You Won't Know How To Feel About It (BuzzFeed)