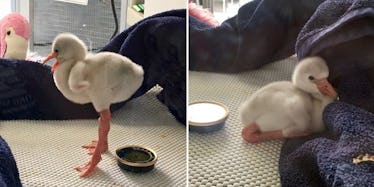 We Can All Relate To This Baby Flamingo Trying To Adult And Lying Down Instead
Twitter/ Samantha Whitten
Flamingos are what I like to call a glam bird. And even glam birds are in a hurry to grow up, one baby flamingo showed.
Flamingos are a gorgeous shade of pink and love posing on one leg, which makes them models in the bird world where flying is an over-saturated talent.
It's no wonder the fashion and home industries have latched onto their beauty for product inspiration. You can get flamingos on most major consumer products these days — even pool floats.
However, it turns out, baby flamingos don't exactly have the same grace as their majestic adult counterparts.
Twitter user Samantha Whitten, also known as @celesse, shared a series of baby flamingo photos that proves even feathered creatures struggle to adult.
Look at that sweet little nugget!
Despite "trying so hard to flamingo" and stretching its soon-to-be long legs, this baby decided to take it easy instead.
Honestly, I never thought I would relate this much to a bird.
The rest of Twitter is in agreement.
Same.
Every day is leg day when you're a flamingo.
What my mom tells lectures me about how adults should have good posture.
This was my exact reaction to seeing a baby flamingo, though.
Aren't we all?
But hey, at least this fuzzy baby managed to accomplish a mini version of that ever-famous one-legged flamingo pose. While it's not super flawless — yet — this is just the beginning. Those webbed feet were made for this!
After her heart-warming tweet captivated the hearts of many online, Samantha followed up with where we can visit this cutie. Because, yes, YOU CAN VISIT IT.
National Aviary is known as "America's Bird Zoo." Located in Pittsburgh, PA, they house more than 150 different species of birds, according to their Twitter bio.
More importantly: they currently have a baby flamingo available for visitation.
Be right back, I'm booking my travel arrangements. Will I see you there?