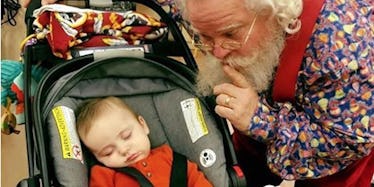 This Photo Of A Baby Fast Asleep On Santa's Lap Is The Cutest Thing Ever
If you're going to try and mess with baby Zeke's nap game, Santa beat you to it.
Zeke's parents brought the 6-month-old to the Eastland Mall in Evansville, Indiana expecting him to pose for his first-ever picture with Santa Claus.
The line was long enough for Zeke to pass out for a quick snooze, and his parents told Huffington Post they considered leaving and returning when he was feeling more awake.
Another customer waiting for a photo urged the family to stay and reportedly claimed,
This Santa is notorious for taking pictures of sleeping babies.
While the customer's phrasing could have been a thousand times less creepy, the advice was accurate.
Zeke's father, Donnie, recalled the moment his son's picture was posed. He said,
[Santa] said, 'keep him asleep,' so [my wife] did, and he sat in the chair and told her where to lay [Zeke].
The mall Santa, who reportedly has 33 years of experience under his chunky black belt, pretended to snooze with a copy of "The Night Before Christmas" under his arm and Zeke on his belly.
Posted by Donnie's Daddy Daycare on Thursday, November 26, 2015
Donnie, a disabled veteran, stays home with Zeke and belongs to a Facebook community for fellow stay-at-home dads where he shared the photo.
From there, the photo was shared on Reddit, Imgur and more than 200,000 Facebook pages, sending Donnie and Zeke back to the mall with exciting news for Santa.
Predictably, Zeke also fell asleep his second time meeting the man with the bag.
Zeke wanted to let Santa know their pictures have gone viral. Don't you know he was asleep again! So mommy and daddy told Santa the news! Posted by Donnie's Daddy Daycare on Sunday, November 29, 2015
In a world where Internet fame can often come with criticism, Donnie was pleased to see thousands of positive comments on his son's photo.
He said,
Of the 22 million views and the numerous amount of comments, there hasn't been anything negative said. Everybody is just so sweet and so kind and saying how it's their favorite picture.
It is impossible to find a harsh word for a little boy who so clearly understands nothing beats a nap.
Citations: Baby's Sleepy Photo Shoot With Santa Will Melt Your Heart (Huffington Post)