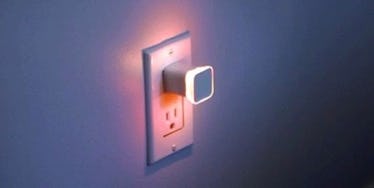 Twitter Likes Are About To Become An Actual Nightmare With This New Gadget
Before I hit the hay, I typically opt for a book instead of my phone.
Many of us tend to eschew our likes and retweets before bed to indulge in a social media detox, but this one nightlight could change that digital hiatus. To be honest with you, I'm pretty frightened.
If you thought you were going to have time to unplug, the Aumi Mini Nightlight is here to make sure you never miss a notification. Fantastic. (No one tell Donald Trump.)
Sweet dreams are not made of these.
The Kickstarter project is your worst nightmare come true and customizes your notifications according to color, POPSUGAR reports. Maybe you like blue for your Twitter activity, or perhaps you fancy red when an important email comes through. Either way, your nightlight will keep you posted, depending on its hue.
Knowing the amount of newsletters I subscribe to and the number of active message threads I have, I can envision my Aumi Nightlight looking as though Lisa Frank attacked me in my sleep.
According to The Verge, the USB-powered nightlight connects to your Wi-Fi, so you can totally forget actually taking a breather when you close your eyes. People are responding on social media to this cruel gadget, and it seems they're willing to undergo a little FOMO.
Be careful — don't make any rash statements on Twitter before bed, or you're going to be sleeping in the same room as a disco ball!
Before you freak out about your beauty sleep, there's a couple of things to keep in mind. For one, the Aumi Mini Nightlight is currently a Kickstarter campaign, and though the success of it so far indicates that it probably will hit shelves at some point, according to POPSUGAR, you have different options if you really need time to unwind.
For one, you don't necessarily have to put it in your bedroom. It doesn't require being plugged into the outlet a mere three inches away from your nightstand.
The creators, according to a tweet, have heard the simultaneous freak-out, and allow us the option to disable notifications. Phew!
So yes, it's a totally awesome creation... but one that I'll use in the daytime, thank you.