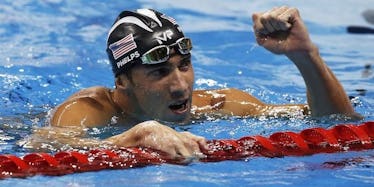 15 Of The Most Brilliant April Fools' Day Pranks On The Internet So Far
REX/Shutterstock
Ahh, April Fools' Day... a day where the fake news phenomenon is more widespread than ever.
We've rounded up some of the best pranks and jokes from the day.
And I have to admit it: The world would be a far more exciting place if most of these were true.
So, did you fall for any of these?
1. Prince Harry and Meghan Markle shocked the world by getting secretly married in the world's most romantic place: Las Vegas.
Or so the Daily Mail claimed.
2. America's most savage teacher, Joe Dombrowksi, scared the crap out of his students by handing them a spelling test made up entirely of fake words.
3. Politics got even weirder when "Star Trek" actor George Takei revealed he will be running in next year's midterms.
Oh my.
Which is fine... because no one is touchy about that AT ALL.
5. Sick of losing your train ticket?
Just get it tattooed on yourself the next time you ride with the UK's Virgin Trains.
6. Virgin Australia got in on the act too, with a canine crew that would definitely NOT be extremely dangerous.
7. Because everyone in your office wants a crazy desk these days, it's only natural ThinkGeek would invent a "swim desk."
Right?
8. Burger King decided to ruin both hamburgers and toothpaste by creating Whopper Toothpaste.
9. If your pet feels left out while you're playing video games, it can use new arcade machines called Mewsmnts and Barkade.
Some ideas were actually really good and hilarious, and should probably definitely happen, though.
10. I'm shocked that "Canoeber" – a company that's basically "Uber for canoes" – doesn't already exist in Minnesota.
11. OurTime – a dating site for people aged at least 50 – came up with the perfect idea for their brand: prune-flavored condoms.
Yummy.
12. America is going to crush the Olympics yet AGAIN next time around.
Why? Because Michael Phelps is coming out of retirement.
13. Ladies, sick of your guy disappearing into his man cave?
Strike back by getting your very own "She Shed."
So, your takeout will now be delivered by parkour runners, BMX riders and skateboarders.
15. Left college and don't know what to do next?
Clearly, you should move to Scotland and get a master's degree in penguin studies at the University of Dundee.
Damn. That's a lot of fake news.
Citations: Here Are the Best April Fools' Day Pranks of 2017 (Time)