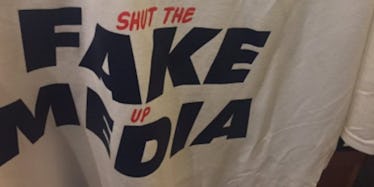 Trump's Selling 'Fake Media' Tee And Everyone's Super Confused Over One Detail
Twitter
People everywhere are scratching their heads over a new t-shirt for sale in the Trump Tower gift shop in New York City.
Edward-Isaac Dovere, Politico's chief Washington correspondent, tweeted out a picture of the shirt, which bears the slogan, "Shut The Fake Up Media."
The design of the shirt seems to be inspired by President Trump's criticism of mainstream media outlets, many of which he has labeled "fake news."
The shirt is clearly a play on the words, "shut the fuck up."
But, uh, it's not going over very well.
Yes, it probably should.
Yes, it's supposed to. But we're also supposed to have a qualified president in the White House, so, you know...
Shots FIRED.
This sounds like an awful, but spot-on metaphor for our current administration.
I'll take a wild guess and say it definitely wasn't.
No way. Even Ivanka can make a better shirt design than this.
I may or may not have ordered this shirt just now (and paid extra for expedited shipping).
But see, if you have to explain it this much, it IS that hard to understand.
Mmm, yes, it's quite "SAD!"
It's only been two months since Trump has entered the White House (let's all take a deep breath).
Since that time, he's built much of his presidential brand on accusing several major news organizations of propagating fake news stories.
So, I suppose it's only fitting (teheh) to design a t-shirt based on that theme.
But, seriously. I made art projects in elementary school that look better than that damn shirt.
In case you want to purchase this grammatically infuriating t-shirt, it's not available to buy on Trump Tower's online gift shop, according to Teen Vogue.
Instead, you'll have to waltz on over to Fifth Avenue, stand in line and face the cashier head-on, admitting your bar for good puns and quality t-shirts is extraordinarily low.
Hey, if dignity isn't really your thing, go for it!
Citations: Trump Tower Gift Shop Sells Confusing T-Shirt About Fake News (Teen Vogue)