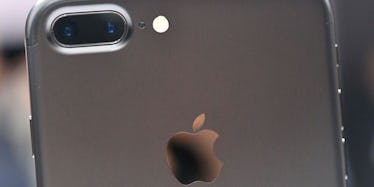 Apple Unveiled The iPhone X And Twitter Is Lit With Reactions
JOSH EDELSON/ Getty Images
Tim Cook knows how to break the internet. After much speculation, Apple finally unveiled the iPhone 8 and 8 Plus today — but that's not all. The tech juggernaut took it one step further, dropping a bomb about an entirely different phone called the iPhone X (pronounced ten).  Tweets about the iPhone X are literally taking over the internet, bringing out the best in everyone's cunning, creative, and meme-full minds.
The surprise new iPhone X comes with extra-strong glass on both the front and back, which Apple says makes it the Most. Durable. Smartphone. Ever. Aesthetic snobs will be pleased to hear it comes in two surgical-grade steel finishes, silver and something called "space gray" that in photos appears as simple black. Out of this world!
It's the first iPhone iteration to eschew the Home Button, and for a mind-blowing reason: the technology recognizes your face. That's right, the new iPhone X comes equipped with Face ID, so your phone will unlock automatically when the front-facing camera senses its master, open sesame-style. But what if your sister kinda resembles you? Can she access your texts, photos, and social media accounts with a mere smile? Apple says go ahead and try, sneaky siblings, because the chances that someone can trick Face ID and break into your phone are one in a million. Since there is no need for a home button, the entire front surface of the phone is a screen. Users can wake up their phone by swiping literally anywhere on the front of their phones or by picking it up.
The whole enchilada will set your wallet back a cool $999 (and up), and it is available for pre-order on Oct. 27. Orders will start shipping on Nov. 3, just in time to get us all in the spirit for an undoubtedly insane holiday season. Now, let's all bask in the collective humor of Twitter.
Some Tweets are calling out the $1K price as cruel and unusual.
Others highlight the disastrous potential for Face ID, in terms of operation and its impact on relationships.
And others are just plain in awe of Apple's unexpected device, claiming it's causing everything from soul-loss to orgasms.
Plenty of tweets focus on the announcement of the iPhone X alongside the iPhone 8 and 8 Plus. How could Apple let X steal the spotlight?
Music fans are taking this opportunity to plug their favorite songs.
A tiny portion of the internet seems nonplussed about the new phones, but still cares enough to tweet, amiright?
Overall, the Twitterverse is rife with mostly positive references. But do the concerned memes about Face ID have any merit?
In terms of if the feature works on a sleeping person, it appears your significant other won't be able to unlock your phone with your sleeping face and snoop to their heart's desire. Apple has already clapped back, stating that Face ID "only unlocks iPhone X when customers look at it" and is "designed to prevent spoofing by photos or masks." So unless you sleep with your eyes open, sounds like you've got no reason to worry. Just keep 'em shut, and if that actually made you nervous, you should probably reevaluate your relationship anyway.
How about the talking poop capability? Apparently, it's called Animoji and not only can your most-used emojis now dance around and talk, they speak in your voice.  According to Apple's website, "the TrueDepth camera brings emoji to life in a fun new way with Animoji. The TrueDepth camera captures and analyzes over 50 different facial muscle movements, then animates those expressions in a dozen different Animoji, including a panda, unicorn, and robot. Available as an iMessage app pre-installed on iPhone X, customers can record and send Animoji messages with their voice that can smile, frown, and more." Imagine the possibilities: You can send a talking, dancing, eggplant Animoji to a babe.
The future is here, and it seems creepy AF.