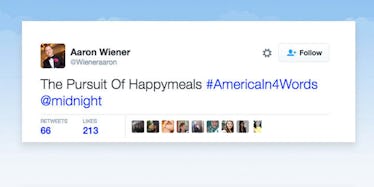 'AmericaIn4Words' Hilariously Ended Up Being The Least Patriotic Hashtag Ever
Twitter
The entire world has a pretty love-hate relationship with the United States. A lot of people love our culture – and by that, I mean our TV shows, music and movies – but the US government also has the tendency to rub others the wrong way.
On Friday morning, #AmericaIn4Words started trending, and it captured the ambivalent sentiments people feel toward the US. This included its own citizens.
It arrived just in time for Independence Day.
Some people tried to be patriotic about it.
But somewhat hilariously – and painfully – on the eve of the birth of this nation, this America-centric hashtag ended up becoming overwhelmingly unpatriotic.
There were a lot of references to our love of celebrities, food and guns.
There were also a few references to Canada, which is pretty appropriate given that the trend popped up on Friday. This happens to be Canada Day.
Also, we're apparently really bad at math. Actually, this is kind of true (at least when you look at how our students perform compared to others worldwide).
This tweet is particularly strong evidence that we're bad at math, especially given the fact that it didn't adhere to the four-word rule.
And – of course – a lot of people talked about the presidential election.
Oh, America. You might be complicated and crazy, but I still love you.