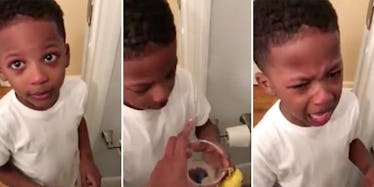 Adorable Boy Sobbing While Flushing Dead Fish Has Entire Internet In Mourning
Daily Mail
My heart is heavy this afternoon for Cupid, Pierce Griffin's overfed Beta fish.
Cupid was only 1 month old when he died. Apparently, his emotional 5-year-old owner accidentally overfed him, which led to the fish's demise.
Thanks to Pierce's mother, Dee, the internet got an inside look at Cupid's funeral. She videotaped her son attempting to flush the little guy down the toilet, and things got emotional fast.
Try to watch this without tearing up.
I DARE YOU.
In the video, Pierce tried to thank God for his fish before flushing it down the drain, and says,
Thank you God for the fish but I don't want to. I want to go to Pet Smart and get another one.
His mother agrees if he's a good boy, they'll get another fish.
In the meantime, they continued to send Cupid into fishy heaven.
Before pouring Cupid's lifeless body into the toilet, Dee asks if her son has any last words for his beloved fish friend.
He says "no," and says, "I just want to flush him by myself."
My heart is broken for this little dude.
His mother replies with a long "Awww," and asks if he wants her to remain standing near the toilet bowl.
The seemingly strong 4-year-old replies with, "No."
Moments later, Dee hands Cupid to Pierce so he could flush him by himself.
And now... the waterfalls start.
After Dee says, "Bye, bye, Cupid," Pierce tries to say the same and bursts into hysterics, drawing out the word "Cupid" through a prolonged shriek.
After a few moments of silence post-cry, Pierce's mother asks him if he's praying for the fish.
At this point, he's collected himself and is taking in the final moments with his pet.
Dee attempts to make him feel better and says,
He was a good fish, a mighty fish, a happy fish, how fish, do fish.
Moments later, Pierce takes a leap of faith and says he sees Cupid moving, which is immediately shot down by his mother who tells him that he isn't.
Now, the moment of truth comes... and Cupid is tossed into the toilet and flushed down the drain.
As the water is circling the drain, Dee can be heard in the background saying, "Ashes to ashes, dust to dust, water to water."
Rest in Peace, Cupid.