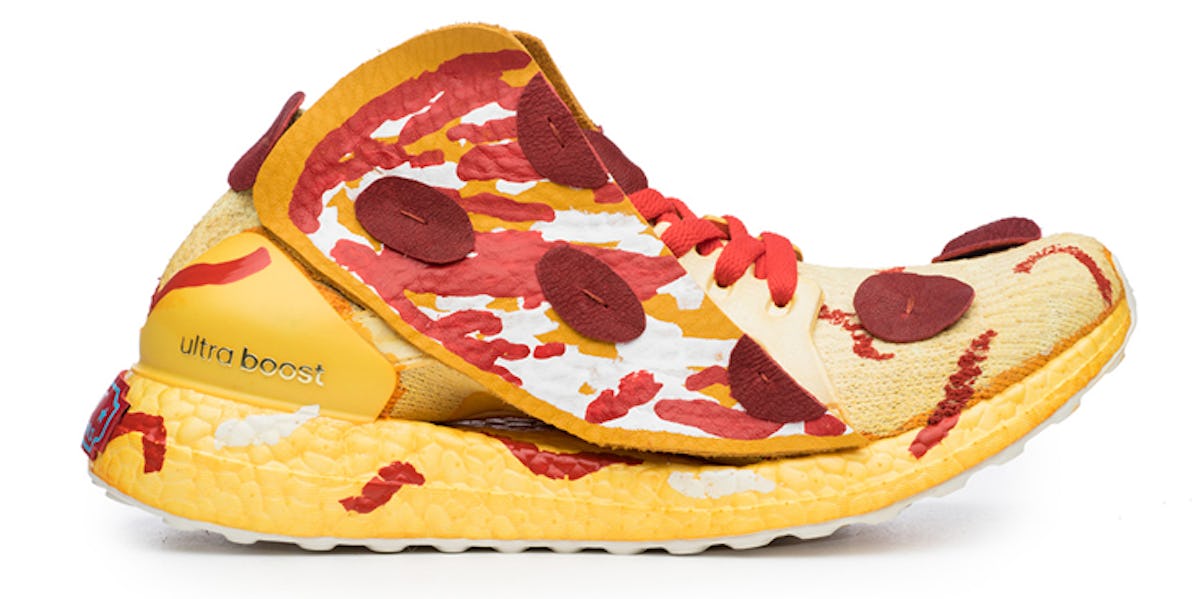 These Pizza-Inspired Running Shoes Will Make You Crave A Post-Workout Slice
Adidas
For those of us who are equal parts foodie and fitness-lover, having the proper workout attire is key.
You know, things like a gym bag that states the hungry truth and running shoes that look like a slice of greasy pepperoni pizza. The essentials.
You might be thinking, "Those beautiful, fashionable, and foodie-friendly shoes can't exist."
But yes, dear reader, they freaking do exist all thanks to a collaboration between Adidas and Refinery29.
For the cool collab, Adidas and Refinery29 commissioned 10 female artists to create unique designs inspired by the 50 states — on plain white Adidas UltraBOOST X sneakers.
"Using sand, acrylic paint, thread, beading, clay, faux flowers, and more, each artist outdid themselves," Refinery29 said in its post announcing the collection.
Wisconsin's are cheese-inspired, Georgia's are peachy, and New Jersey's are those coveted slices of pizza pie.
Designed by Jen Mussari, the Garden State's crave-worthy shoes are fully loaded with everything that makes pizza so wonderful.
Their base is painted a pale yellow hue (to represent a perfectly baked crust) and accented with red and white swirls that look melty cheese and hints of sauce.
Red laces and hand-sewn pepperonis give them an ultra-realistic appeal, but if that's not enough detail to send you into a pizza-ordering frenzy, the side panels are also pizza slices.
I cannot handle the pizza-ception.
Because of the hand-crafted nature of the designs, only one pair of Adidas UltraBOOST X per state was created, which sadly means that Jen's genius shoes are one-of-a-kind.
Unfortunately, all 50 pairs — including the pizzas — have already been sold to the highest bidder in a now-complete auction on Adidas's website.
Though my pepperoni-obsessed heart is broken, the good news is that all proceeds from the auction went to Women Win, a charity on a mission "to equip adolescent girls to exercise their rights through sport."
Should you still be interested in getting your feet into a regular pair of Adidas UltraBOOST X, they retail for $180 and are available in six colors.