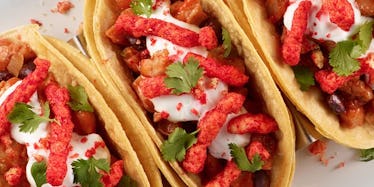 The First Cheetos Restaurant Is Opening Soon, So Make Reservations Immediately
The Spotted Cheetah
For some people, Cheetos aren't just a snack food — they are the snack food. So you can image in the resounding excitement that ensued when Cheetos announced its first-ever restaurant, The Spotted Cheetah. The limited time (flamin') hot spot, created as a send-off to NYC's Restaurant Week '17, will be open for just three days (Aug. 15 to Aug. 17), meaning the list of people who will actually get to taste Cheetos' fine dining offerings will be rather small. Oh, did I mention celebrity chef Anne Burrell is the chef behind the cheesy madness?
In a press release statement announcing her new restaurant endeavor, Burrell said,
As a long-time Cheetos fan, I'm thrilled to join forces with a snack brand that is truly an iconic American staple. I had so much fun curating this specially crafted, one-of-a-kind menu for the first Cheetos restaurant – I can't wait to see guests' reactions!
From the looks of things online, the one-of-a-kind menu she mentions doesn't disappoint, either. Though it'll only be around for three days total, The Spotted Cheetah's three-course menu has 11 dishes and an affordable $8-$22 per plate price range.
If you're lucky enough to snag a table before The Spotted Cheetah closes up shop on Thursday, Aug. 17, expect to order things like Cheetos tacos, grilled cheese, and even cookies — using all your favorite Cheetos flavors.
Here, take a look at a few of Burrell's menu items IRL:
Flamin' Hot Limón Chicken Tacos
Cheetos Grilled Cheese And Tomato Soup
Cheetos Sweetos Sweet And Salty Cookies
I'm already drooling. Burrell has definitely raised the Cheetos bar, and I don't think I can look at them as just a tasty snack any longer. They are luxe.
Ryan Matiyow, senior director of marketing at Cheetos' parent company, Frito-Lay, said fans inspired the playful-yet-elevated restaurant idea. He explained in a press release,
Once again, our fans have inspired us with their creativity and playfulness. We've seen their love for Cheetos exhibited through innovative dishes, desserts and beverages, which motivated us to create a restaurant that would bring a full Cheetos culinary experience to life.
Such. A. Good. Idea.
To make a reservation, visit The Spotted Cheetah's website or use OpenTable. However, don't sweat it if you can't make it, because come Tuesday, Aug. 15, all the recipes will be available in a free digital cookbook. Check out The Spotted Cheetah's website for more details and to drool over the full menu.