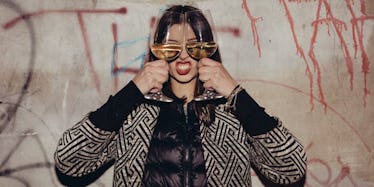 25 Relatable Tweets About #NationalWineDay That Every Wine Lover Would Cheers To
HEX.
Guys, in case you haven't noticed, I'm a huge fan of wine (like... huge).
If you also have a passion for the reds, whites, and rosés, you're probably aware that today is an extremely important holiday amongst the wine-loving population.
It's National Wine Day, so pour yourself a tall glass of vino and celebrate the boozy date.
While you're sipping on your Merlot (or whichever wine you prefer -- I don't discriminate), Twitter users are indulging in their favorite bottles and tweeting about their immense love for the holiday.
TBH, these fellow wine connoisseurs are totally relatable and I'd cheers to just about every one of 'em.
"When you hear that wine cork pop."
Don't feel bad about pouring a little extra into your glass today.
Here's a new workout strategy in honor of the holiday.
Fill it to the rim. You deserve it.
It's honestly the only holiday that matters...
...and people are definitely getting behind it.
Heck, some people are celebrating at work.
Others think every day is National Wine Day.
This boxed-wine backpack is a perfect accessory for National Wine Day.
Speaking of boxed wine...
People are so ready to celebrate.
Some of them started early.
If you're fed up with the government, the holiday is perfect.
I'll have one... or two... or maybe three glasses.
Some folks are already on their second glass.
Wine and comfy pants make for the best night ever.
"As if I needed a reason to drink wine."
It's your time to shine, babe.
"TODAY IS MY DAY."
Some people don't even need an excuse to pour a glass.
I don't know about you, but wine makes me dance.
Make sure you treat yourself.
As you can see, you definitely aren't the only wine lover celebrating the boozy holiday.
Whether you're pouring a glass and relaxing in your pjs or stopping by a wine bar for a happy hour after work, enjoy your beloved wine responsibly.
Cheers!