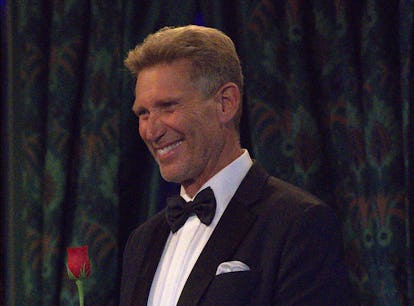 Gerry Turner, The New Golden Bachelor, Doesn't Have A Type
But he does have certain qualities he's looking for in a partner.
ABC/Craig Sjodin
Loyal fans of Bachelor Nation will remember when ABC began casting for a "new exciting dating show" for people in their "golden years." The callout ran during commercial breaks for The Bachelor starting in January 2020, but it was three years before the mysterious new show finally materialized. Enter: The Golden Bachelor, which premieres on Sept. 28, starring 72-year-old Gerry Turner.
Turner, a widower from Indiana, is the oldest Bachelor in franchise history by around three decades, but don't mistake that for a lack of charm or appeal. The retired restauranteur, father of two, and grandfather of two may be poised to reinvigorate the famous dating show, after a string of male leads who received lukewarm reception from fans. "This will be the first season of the bcu (bachelor cinematic universe) i will [watch] and i am so excited," one TikTok user commented on an interview clip of Turner. "He's so wholesome. This is so refreshing," said another.
The 22 women competing for his heart range in age from 60 to 75 and include Patty James, the mother of former Bachelor Matt James. Not much else is known about Turner's season, but he gave Elite Daily some details about what to expect — plus, the dating factors (including age) that are most important to him.
Elite Daily: What are you most excited for people to see during your season?
Gerry Turner: I'd say opening night, and how terrific each and every one of the women look as they get out of the limo. Some of them have a little bit of a gimmick, so they're more memorable than others.
ED: Did you watch The Bachelor franchise before getting cast as the lead?
GT: I was a casual viewer. I wasn't part of the deep, tightly-ingrained Bachelor Nation, but I did watch — not every season, but frequently. Zach Shallcross' season stands out as one I really liked.
ED: What was the most surprising part of the experience for you?
GT: The need for me to surrender to the process and to realize that the producers had done it many, many times before. They really knew what was going on, and I needed to trust their judgment and guidance. Early on, I didn't want to give up that control, but once I realized I had to trust them, things worked out better.
ED: Can you tease anything about who is going to be a major player or cause drama?
GT: Many of the women who would appear to be popular choices may not wind up being on the show towards the end. There were so many nice, poised, elegant women who were so wonderful, but they weren't the right combination for me. Whether it was geography, age, personality, or the many different factors you have to consider, that could sometimes be the reason an apparent front-runner or favorite wasn't quite right.
ED: Would you say you have a type?
GT: I don't think so, no. Going through the show, I asked myself that question several times. But if you ask it in a different way — are there certain characteristics in a woman that I really look for and need? — then I would say yes. But do I have a type? I don't think so.
ED: What about age? Before the cast announcement, many people were curious what the age range on this show would be. Would you be down with an age gap?
GT: Some of the comments online were really hilarious. People were saying, "Will this guy be a 45-year-old silver fox dating 25-year-old women?" More to the point, I think there is a cultural issue that rises up when the age gap is significant. So in my opinion, it has to be a factor.
ED: How is your season different from Bachelor seasons past?
GT: The big difference is in regard to the relationships among the women on the show. They were kind and supportive of each other. Early on, they began the process of figuring out how they would have an annual reunion, how they were going to help each other with makeup, and all these things that were so friendly. If there were smatterings of drama or disagreement, they were so minor and insignificant that they didn't make up the core of the show.
ED: And what about similarities? What can Bachelor Nation expect to see this season that feels familiar?
GT: There are some really iconic moments and pieces to the traditional show: the rose ceremony, one-on-one dates, and group dates. You'll see the normal progression of a typical Bachelor show in the Golden Bachelor. There are going to be some surprises and points of great interest along the way, but it'll feel comfortable to viewers.
ED: What can you tell me about your relationship status now?
GT: My relationship status as I sit here before you today is the same as it was months ago.
ED: [laughs] That's honestly a smart way to answer that.
GT: I'm sorry I can't be more helpful.
ED: We'll just have to watch and see.
This interview has been condensed and edited for clarity.