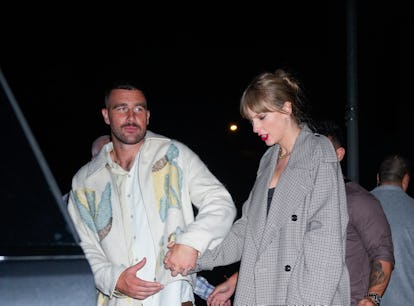 The Traylor Handhold Theory Can Gauge A Couple's Sexual Chemistry
Taylor Swift and Travis Kelce's relationship has taken over the internet (and the NFL), and even their most innocent moments of PDA have gotten people talking. On TikTok, the Traylor handhold theory posits a new way to measure a couple's intimate connection, just by looking at one subtle body language cue.
TikTok creator Eli Rallo brought this handholding theory to the app on Oct. 17. In the video, which now has over 7 million views and 950,000 likes, Rallo explained how the way Swift and Kelce laced their fingers together in recent photos hinted at great sexual chemistry. It's different from the type of handholding fans saw in Swift's relationship with Joe Alwyn, where they cupped each other's hands like paws, not intertwining at all.
"They have this sexy thing going that seemed to be elevated by the way they were holding hands," Rallo, author of the upcoming book I Didn't Know I Needed This, tells Elite Daily. "I'm not a body language expert, but I did notice how intimate that handhold is and how secure it looked to me."
Apparently, the theory was inspired by Rallo's own life. "In my personal life, whenever someone holds my hand with the fingers intertwining, I feel so intimately connected with them," she explains. On the other hand, she says, "The paw handhold is platonic, almost like your mom dragging you through an amusement park, trying not to lose you."
Kevin Mazur/MG21/Getty Images Entertainment/Getty Images
Rachpoot/Bauer-Griffin/GC Images/Getty Images
Kevin Mazur/Getty Images Entertainment/Getty Images
Other celebs who often go for the intertwined handhold include Kourtney Kardashian and Travis Barker, Justin and Hailey Bieber, and Beyoncé and Jay-Z. "When you hold hands with someone in that intertwined way, that's really sexy and intimate," Rallo says. To her, it says, "We love each other so much, we're head over heels. We can't keep our hands off of each other. We are thinking about each other all hours of the day."
While laced-up fingers might indicate a "hot, fresh, honeymoon stage" romance to Rallo, the "paw handhold" hints at the opposite. Still, it's the go-to of some celeb couples past and present, like Cardi B and Offset, Meghan Markle and Prince Harry, and Swift and Alwyn.
"The paw handhold is like, 'We are platonic, and maybe just staying together because it's easier than not being together. We're bored of each other, our sex life isn't interesting," Rallo says, adding that this isn't definitive by any means.
Axelle/Bauer-Griffin/FilmMagic/Getty Images
Chris Jackson/Chris Jackson Collection/Getty Images
Robert Kamau/GC Images/Getty Images
There are, after all, a few gaps in the theory. "If your man's hands are big and you also have big hands, it's not going to be as easy or comfortable to intertwine your hands," Rallo says. People in the comments section pointed out that loophole to her. "I think 70% of the comments are saying it's so true, and then the other 30% are like, 'My man's hands are really large, and it hurts me.'"
Another potential discrepancy? Super long nails or talons can make an intertwined handhold a bit of a safety hazard. Even twin flames Megan Fox and MGK have dabbled in the paw handhold when their manicures, either sharp almond or full-on stiletto, have gotten in the way.
Regardless of your go-to handhold, as long as you're not dropping each other's hands, you're already passing Swift's own litmus test. She made her standards crystal clear in 1989: "Just grab my hand and don't ever drop it, my love."