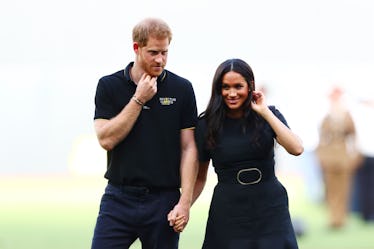 8 Photos Of Celebrity Couples Holding Hands That Are So Low-Key
Dan Istitene/Getty Images Sport/Getty Images
I've always felt like hand-holding is both so casual and so committed. If someone holds my hand on the first date, in my head, we're already in a relationship. (Kidding! Sort of.) Honestly, if someone doesn't hold my hand on a first date, in my head, we're still in a relationship, but that's more of a me-thing. And I'm not alone in my passion for hand-holding — my famous friends do it too. I really enjoy seeing celebs show their passion out in the wild, so if you're anything like me, you may love these photos of celebrity couples holding hands.
I find hand-holding to be extremely low-key. You're joined at the part of your body designed to grab onto things, so it makes sense that you'd want to hold your partner's hand. Even at red carpet events, watching celebrities hold hands makes me feel like they're having a casual night out — sure, there are cameras flashing, but they're still sticking by the one they came in with. At the same time, though, hand-holding can be so intimate — I want to hold someone's hand when I want to join with them in every way possible. Hand-holding is both low-key and romantic, which is why I love to see my fave celebs doing it.
Read on to find eight pictures of celebrity couples holding hands that are at once so romantic and so low-key.