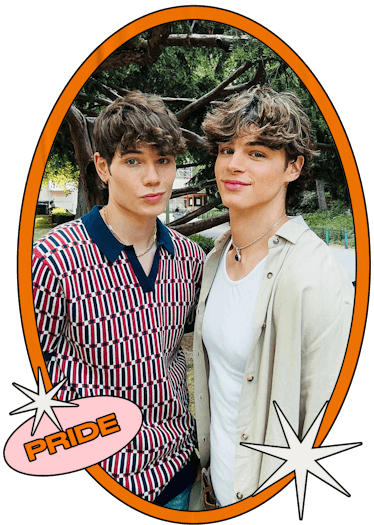 Pierre Boo & Nicky Champa Are TikTok's Favorite Cross-Cultural Couple
The duo dish on how they met and what queer joy means to them.
It's hard to imagine a time in which Pierre Crespeau (aka Pierre Boo) and Nicky Champa didn't post about their relationship, from their romantic Fenty perfume ad to their silly skits. When the two met in 2017, they were both turning to social media — first Instagram and later TikTok — to show off their acting chops, hoping that displaying their skills and building a following would help book them roles. They grew their audiences fast, now boasting more than 13 million followers each on TikTok. Still, Champa, 27, and Crespeau, 36, worried that being openly queer online would cause them to lose out on certain acting jobs, even in the more progressive entertainment industry.
But in 2018, after a year of dating, the two publicly came out together, and quickly endeared themselves to fans with their videos parodizing relationship drama and making skits about the intricacies of being in a cross-cultural partnership, highlighting Crespeau's French culture in contrast with Champa's American roots.
Below, Crespeau and Champa tell Elite Daily what queer representation means to them, why their wedding was peak "Kourtney and Travis," and how they sort through creative differences as a couple who work together.
Elite Daily: How did you two meet?
Pierre Crespeau: Six years ago, we were auditioning for the same movie.
Nicky Champa: I took a picture of him when he sat down, and I sent it to my manager. I didn't realize that he represented both of us. So our manager sent the picture to him, and then Pierre came up to me.
PC: I could tell by the boots it was that guy in the corner that I saw when I came in. I was like, "Oh, my God, he's very cute." But I was trying to focus on my lines. He was super shy and wasn't looking at me at all. I stood up and sat next to him. I said, "Hi, my name is Pierre, you sent that picture to my manager, and he sent it to me," and he gave me the biggest smile, and we exchanged Facebooks.
ED: How soon after you got together did you start working together and posting as a couple?
NC: We waited a year. The whole reason we started social media was because we wanted to pursue acting. That's why we create skits and do these sketches and whatnot. Back then in 2017, you didn't know if you should be posting about being gay online. We were worried. We were going out for straight roles all the time. It was a weird time.
PC: I would see "couple goals" on Instagram at the time. I never related to that kind of thing. I'm just going to post a picture with my boyfriend; it has nothing to do with that trend. I wanted to share with the world special moments of our lives together. Once we went public, followers from all over the world reached out and thanked us for giving them inspiration. It was very touching, and we were happy to share our relationship with that group of fans. And then TikTok rolled around. People found it fun to watch the dynamic between us.
ED: Now most of the content you post includes both of you. How do you reconcile creative differences when working together?
PC: It's a huge challenge. I have a therapist!
NC: When we're creatively synced and have the same concept, it's really fun. We're two creatives and also two Virgos. The combination is a little insane. So, there are definitely some neurotic nights. But then you just go outside of Paris and you have a spritz.
PC: I think we tend to forget that since we now share our lives with the public on social media, our followers are invested in us as a couple.
ED: You guys got married last summer, right? How has marriage been so far?
NC: So we got married in Vegas and it got leaked, which we never thought would happen. That wasn't supposed to be our wedding. He was in a sombrero. I think I was drunk. It was like Kourtney and Travis. We're married legally now, but we still want to do an engagement.
PC: It was something fun to do, and also a way to move on with our lives and get ready for the big wedding.
ED: You two have a lot going on right now — in January, you did a Fenty perfume ad. Can you tell me what that was like for you to get that opportunity?
NC: It was really cool. We shot it here in Paris. We ran around in the rain and spritzed cologne on each other and just kind of did what we do all the time.
PC: It really is like a dream. We're always looking back at it like, "Oh, my God. I was living my best life." I was in Paris with my boyfriend doing a thing for Fenty. Are you kidding me? For Rihanna? I'm so grateful.
ED: You talked a little bit about representing something for people with the #couplegoals trend. How do you think representation in the queer community has changed over the course of your relationship?
NC: To be honest, I've never seen us as a gay couple. I've always seen us as a couple, and I'm constantly wanting to preach that because I think as time goes on, the LGBTQ+ community is going to keep expanding.
PC: It's something that is automatically put on us. We have to fit into people's minds a certain way, they have to put a label on something. But it's hard to feel like you just have one playground to play in, when you feel like you're so much more than just a couple or a gay person or an LGBTQ+ member — you're a human. That's really what we want to orient our content toward. We started to learn to not care that much anymore about how much people put importance on our relationship. That's on them; that's what they need.
ED: What does queer joy look like to you?
PC: It's freedom and happiness. It's feeling a bit bad*ss, doing what feels good. This is who I am — deal with it.
NC: Being queer is honestly the sh*t. It's the coolest thing ever that can happen to you, in my opinion. I think it's like a superpower.
This interview has been condensed and edited for clarity.