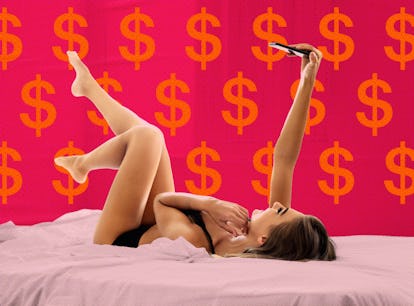 So, What Are People *Actually* Subscribing To On OnlyFans?
Eight 20-somethings reveal the accounts they love watching.
Elite Daily; Getty Images
It can sometimes feel like almost everyone, from the trainer at the local gym to your roommate, has an OnlyFans account — and is making *a lot* of money from it. Celebrities like Bella Thorne, Iggy Izalea, and Mia Khalifa are on the platform, and Thorne has famously earned more than $1 million in a single day. In February, Azalea told Emily Ratajkowski on the High Low podcast, "I'm making so much money [on OnlyFans], I won't even share how much it is." But who, exactly, are their subscribers, and where is all this money coming from?
Contrary to the prevailing narrative about OnlyFans, it's not just a one-stop-shop for porn and lingerie pics. There are accounts devoted to everything from cooking to car repair. As for subscribers, they're not the creepy older men you might be picturing — they're actually pretty similar to creators, and they use the platform for a variety of reasons, from getting inspiration for their own OF accounts to feeling more creative in their sex lives.
If you're looking to browse the platform, OFTV is a free video streaming service that doesn't require a subscription. To see more curated content, you'll typically have to pay — fees range from around $5 to $50 a month, and creators may subtly link to it through a Linktree or drop their OF name in their IG stories (strict Instagram rules don't allow creators to share OF links directly on the site). Another way to find accounts? Ask your friends. You may be surprised who's subscribing.
Here, eight 20-somethings get real about which OnlyFans accounts they love watching.
I Just Enjoy Watching Fun Female Creators
"I identify as mostly straight, but I subscribe to women because I like knowing what other girls are doing. I love @cupofcarli. Another one that I really like is @lunasaysshivip. She has tattoos, lives in Denmark, is goth and identifies as queer and just lives her life. She seems really approachable." — Ani, 23
I'm Getting Ideas To Start My Own OF Account
"I'm actually thinking of doing an OnlyFans myself, and I want to see what is successful. People who do well seem to already have a solid base on TikTok or Instagram, and they're really clear about who they are, what they offer, and what their niche is. In my opinion, it's not enough to just be sexy. You have to have a look, but you also have to have a voice and personality." — Lexy, 28
My Boyfriend & I Watch Sexy Videos Together
"@KarmaRx does a lot of hardcore stuff — it's porn. She's known for threesomes and g*ngbangs, which are all things my boyfriend and I have talked about. We're still thinking about implementing some more risque stuff into our own lives. We haven't yet, because logistics are hard, but we sometimes have her videos in the background while we're having sex. I also love that she has a lot of tattoos (I do too!) and overall just really seems to love sex." — Genesis, 23
I Only Watch The Free Content
"I follow @lottiemossOF on OnlyFans. Subscriptions are free, so it's easy to follow, and she's beautiful. I followed @bellathorne for a while, but I feel like Lottie doesn't take herself as seriously. Plus, the free factor takes away some stigma about paying for an OnlyFans subscription. To me, paying seems pervy, but watching for free seems OK. I know that's just a thing I need to get over, but also, I'm on a budget. $20 a month for OnlyFans could go toward hanging out with friends." — Kacie, 24
I Love Seeing Married Couples On The Platform
"I love watching married couples on OnlyFans, and it's actually really enhanced my own relationship. I love watching couples be normal and then start getting it on. It feels more real than porn, and they'll sometimes look into each other's eyes and burst out laughing. There's this one couple I subscribe to — @trippy_vibez32. They're an Australian couple with a bunch of kids who are living a van life. Some of their content is about their travels, and it goes from normal to freaky. I love that they're hot, they love each other, and they have kids but they also have amazing sex. I feel like that will be me and my boyfriend in 10 years." — Sarah, 29
The Content Feels More Realistic To Me Than Porn
"What I love about OnlyFans is that it's not just sex. To me, it's the celebration that we are all sexual beings. I also love that it feels more real than porn — it's real people having real sex and interacting with each other. I love @autumnxxjordan. Their account is lesbian BDSM, with actual lesbians — not something you get in porn." — Lauren, 23
I Found A Creator Who Helps Me Appreciate My Body
"I follow @thatfatbabe on OnlyFans. I'm hetero-ish, and the reason I follow is because the creator has the same body type as me. I've only recently become comfortable calling myself 'fat,' and seeing how beautiful her body is really helping me love my own. I love how strong and sexy she looks, I love her lingerie, I love the way she poses, and I love how confident she is in her skin. Seeing folds and cellulite and stretch marks in lingerie makes me realize I can be beautiful, too." — Mia, 27
I Follow Accounts For Fitness Inspiration
"I follow @dmoneystevens. He's a trainer and model. I think people assume OF is just sex, but he has workout ideas and he's also super hot. I've followed a few fitness influencers on OnlyFans. It feels less formal than a workout on Instagram or TikTok. Less clothes, more fun." — Shilpa, 22
These anecdotes have been condensed and edited for clarity.