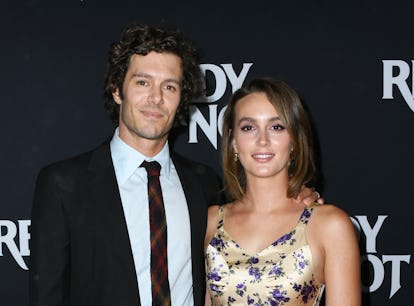 Leighton Meester & Adam Brody's Relationship Timeline Is TV-Worthy
Thank you, Josh Schwartz.
Jon Kopaloff/Getty Images Entertainment/Getty Images
When two icons of Y2K teen dramas end up together, fans can't get enough. Leighton Meester, who played Blair on Gossip Girl, and Adam Brody, who played Seth on The O.C., have known each other since 2007. They started dating in 2013 and married in secret in 2014 — keeping the majority of their relationship out of the public eye.
It wasn't until 2017 that they gave their first joint interview and discussed the fact that in this universe, the real-life Blair and Seth wound up getting married. Speaking to Entertainment Tonight, Meester said they "occasionally" talk about their characters. "Once a year, randomly, on our Seth and Blair day," Meester quipped at the time. "It's good for a laugh. It doesn't excite us, I think, because we're just human beings … but it's exciting to us that it's exciting to you. It's cool."
The couple might not talk too much about their romance, preferring to keep it private, but they've got plenty of history together (and now two kids). Here's a timeline of Meester and Brody's romance, including their first meeting and secret wedding.
2007: Leighton & Adam Met For The First Time
Meester and Brody met back in 2007, when Gossip Girl was being shot. "Josh Schwartz produced both shows and literally the first time we met, that whole cast was eating at Canter's [Deli in Los Angeles] and I lived at Canter's for like my entire 20s. And I was leaving, and he introduced all of us," Brody told Anna Faris on a March 2021 episode of her Unqualified podcast.
But nothing happened between them right away. "I was smitten instantly. And I was, you know, smitten for a long time," he said in an April 2023 episode of Podcrushed. "I didn't get to know her for many years after, even though we even worked together briefly. She's so lovely and she's so sweet."
2011: They Worked Together On The Oranges
They duo reconnected while working together on the movie The Oranges in 2011. "I was seeing someone at the time [when we did the movie]. So, we met kind of through mutual work friends off and on. And then we didn't get together about a year after that movie when I was single," Brody said on Unqualified in 2021.
February 2013: Leighton & Adam Started Dating
In February 2013, Us Weekly reported that Meester and Brody were "hanging out," according to a source. The insider added, "They were always close and friendly." Per the outlet's report, the couple had traveled together to Bangkok earlier in 2013 and went to the Los Angeles County Museum of Art on Feb. 1, 2013.
November 2013: They Got Engaged
E! reported that Meester and Brody were engaged, nine months after they reportedly started dating.
2014: They Got Married In Secret
Meester and Brody got married in a secret ceremony in February 2014. Per E!, they were spotted at Mexico's St. Regis Punta Mita Resort over Valentine's Day. The trip, which appeared to be their honeymoon, happened only a few weeks after the Gossip Girl alum reportedly had her bachelorette party at West Hollywood restaurant Hamburger Mary's.
During an appearance on Sirius XM's The Jess Cagle Show in March 2023, Brody spoke about their wedding. "My wife and I actually got married very fast after we started dating," he said, per Brides. "That's how sort of easy a decision it was for me and us. I was never scared of the idea of marriage or kids. It always seemed like a route I would go [down] eventually, and I was excited when it came together [and] when I met the right person."
2015: They Welcomed Their First Baby
On Aug. 4, 2015, the couple's first baby was born — a daughter named Arlo Day, per TMZ.
In August 2018, Meester opened up about parenting with Brody. "I think we're a pretty modern couple," she told Entertainment Tonight. "I think we sort of toggle back and forth... we both work, but also being actors, I think we understand each other, what we're both going through."
2020: They Had Baby No. 2
In September 2020, the couple confirmed they had welcomed a second baby, a boy they jokingly nicknamed Joe Biden. During the Twitch show The Fun Time Boys Game Night Spectacular, he confirmed that he was a father of two. "I have a boy and he's a dream, he's a dream boy," he said, per People.
A month later, in October 2020, Brody told People about having a son. "It's been pretty magical," he said. "It's such a crazy time for everyone and we're so, so, so fortunate that we have some of the security we do and have the flexibility with our jobs we do. We talk about it all the time and we're just ridiculously fortunate and lucky."