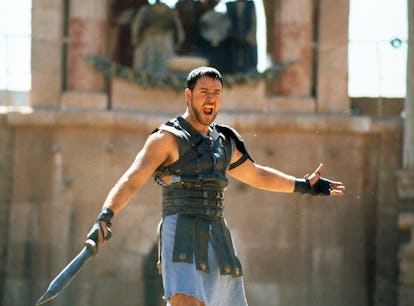 Why Are Men Always Thinking About The Roman Empire?
Over the years, there have been plenty of thinkpieces devoted to answering one question: What are men daydreaming about? Apparently, the answer is the years 625 BC to AD 476. On TikTok, people are asking the men in their lives how frequently they think about the Roman Empire, and it's way more than you'd expect. Many of the men asked say they have daily thoughts of ancient Rome... but why? Is it the gladiators? The Colosseum? Aqueducts? It's unclear, but the #romanempire hashtag now has over 900 million views, with countless videos dedicated to men's random history obsession.
The trend started on Instagram Reels in August, when Gaius Flavius (a Roman Empire re-enactor) posted about the phenomenon: "Ladies, many of you do not realize how often men think about the Roman Empire. Ask your husband/boyfriend/father/brother — you will be surprised by their answers!" Flavius might be slightly biased, considering his job is Roman Empire, but when the question made its way to Twitter and was posted on TikTok, it became clear that men actually *do* think about the Roman Empire a lot. On the app, women began sharing responses from the men in their lives, and it turns out, Flavius was right on the mark.
Bachelor In Paradise's Hannah Godwin asked her now-husband Dylan Barbour, and his take was that thinking about the Roman Empire is just "guy's stuff." He told her, "Once a week... It's like random guy's stuff, like, 'Oh, gladiator. That's cool.'" Another Bachelor Nation alum, Hannah Brown, also posed the question to her fiancé Adam Woolard. His answer? "Pretty consistently... Because I'm big into martial arts... Every time I fight people, I think about walking into the Colosseum."
Here are some of the best videos of women asking men how often they think about the Roman Empire.
This guy's iPhone background was actually an artistic rendering of a gladiator fight.
There really is *so* much to think about.
Some men — not history professors, either — think about it "at least once a day."
So, what's the female version of thinking about the Roman Empire? TikToker @sophisticatedspreads posed that very question. Here are some answers she received: Salem Witch Trials, Princess Diana, Titanic, the Romanovs, and the Triangle Shirtwaist Factory fire.