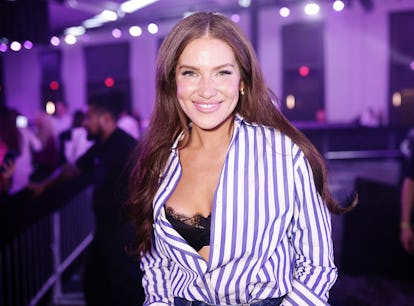 Brynn Whitfield Has The Best Advice For Dating In Your 20s
Plus, the "hottest thing" a guy can do on apps.
Greg Doherty/Bravo/NBCUniversal/Getty Images
"Everyone asks me why I'm so happy. I'm my f*cking self," Brynn Whitfield tells me, huddled up on a velvet blue couch downstairs in the Lower East Side's PUBLIC Hotel. It's 9:45 p.m. on a Tuesday, and EDM music is playing loudly from the speakers. I've pulled the Real Housewives of New York star away from a flirty conversation with two strangers to talk about sex and dating, and all the things she wishes she'd known when she was younger.
Whitfield is here to celebrate the upcoming rebrand of Feeld, a dating app that caters to people seeking non-traditional relationships. It's a platform she says she's long admired and was excited to work with. "I'm sex positive, and I love seeing people being true to themselves, but doing it with integrity, respect, and safety," the 36-year-old tells Elite Daily. "If we all subscribed to that, we'd be in a much happier, freer place."
She follows this up with, "You can be into BDSM and be an upstanding citizen. Don't forget to vote!" — a mantra that rivals her famous "I'll date your dad" RHONY tagline, which made her a patron saint of messy single girls everywhere.
The Season 14 star isn't the youngest RHONY cast member, but you'd never guess it based on her constant silly quips and self-deprecating humor. Whitfield may be a self-proclaimed "trophy wife in training," but she's also navigated her fair share of real love and heartbreak, going from being a "serial monogamist" in her 20s to happily single and thriving.
Below, she shares her hard-won wisdom with Elite Daily, and reveals why she thinks weirdness is a flirting superpower.
Elite Daily: What's your best piece of advice for dating in your early 20s?
Brynn Whitfield: Have fun. I'm not saying don't get into a serious relationship, but I'm also kind of saying that — your 20s are a great time to be exploratory because you change so much.
I was wild during my first semester of college. I almost flunked out, I woke up on the front lawn of a fraternity house… I was a lot. Then I met a very nice Turkish prince and we fell in love and became very studious. I ended up being in that relationship for seven years.
Being a serial monogamist in my 20s explains a lot about my 30s — why I've been having fun versus identifying alongside someone else. If you fall in love, you fall in love, but take the opportunity to learn about yourself in the meantime. Make out with everybody. Use tons of condoms. Go out with your girls more. Be yourself.
ED: And what sex advice would you give to someone that age?
BW: Know the sex you're having is bad. If you and your partner are both 23, neither of you really knows what you're doing. I thought I was great at sex and that the guys I was with were great at it, too. But no, it was all bad.
That changed dramatically when I realized it could be about pleasure rather than obsessing over whether I looked hot or my cellulite was showing. It changed the experience for my partners, too — they're more into it when you are.
The hottest thing a guy can have is a social media profile where he's not following anyone and never posts.
ED: You're famously good at flirting. How do you flirt on an app, where the conversation can often feel stilted?
BW: First of all, it's a dating app and you're messaging and it's awkward. So just respond with something completely irrelevant that makes zero sense. See if they can go along with it and banter. If he's saying, "How's your day?" Respond with something like, "Oh my God, this monkey said the craziest thing to me." Be nonsensical.
If they catch on, then it's a connection and you can say, "Hey, let's get a drink." And then when you come together IRL, you already have inside jokes.
ED: What's something on a dating profile that gives you an immediate ick?
BW: When cis men have selfies with their shirts off. Don't take a selfie. The hottest thing a guy can have is a social media profile where he's not following anyone and never posts.
It's a turn-on when all his pictures are obviously cropped from weddings or other events. I'm like, "Thank you for only having pictures that other people took of you." Those are all green flags.
ED: Any advice for the girls who want to get out there this winter but are burnt out on dating (not to mention the cold and dark weather)?
BW: Do not be afraid to take time off from dating. Every time I've taken time to work my *ss off, make more money, get hot, see my friends, and stay inside, I'll be f*cking thriving, and then an amazing man comes my way. Be careful, because the second you're very happy with not looking — that's when something comes in.
So stay in this fall and winter if you want. Read, cook, paint, do a lot of feminine energy stuff, study, take a workshop, rewatch every season of Gossip Girl.
ED: We were talking to Tinx recently about her dating strategy this fall, which is to get laid or lay down. That sounds kind of like what you're suggesting.
BW: Exactly. I'm either getting laid or getting paid. You know I'm not getting laid right now, because I've been working and doing sh*t nonstop.
ED: So it's a trade-off.
BW: Yeah. [laughs] It feels so good to really be content with being single. There was a long time when that was the only thing in my life I didn't like about myself, and it was keeping me down. The second I stopped caring and chose to be OK with it, all I felt was joy and happiness, and everything started coming together. It was the most freeing thing.
This interview has been condensed and edited for clarity.