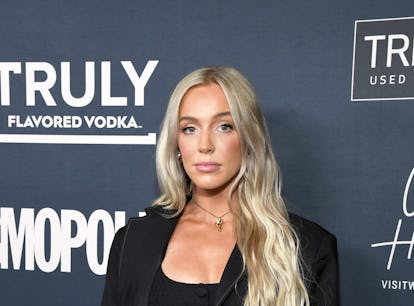 Alex Cooper Revealed The "Surreal" Way Her Fiancé Matt Kaplan Proposed
"I bet no one had this on their 2023 bingo card."
Jon Kopaloff/Getty Images Entertainment/Getty Images
Alex Cooper, host of Call Her Daddy and the top female podcaster in the world, is pretty much an open book. From sex toys and techniques she calls "female locker room talk" to mental health and politics, there's not much she won't talk about — except her relationship. Cooper's fans, known affectionally as the Daddy Gang, only knew her now-fiancé as "Mr. Sexy Zoom Man" after the pair first met on a Zoom business call in 2020. Superfans who could pass as FBI agents speculated that it was Matt Kaplan, film producer and CEO of Ace Entertainment, but Cooper never confirmed it — until now.
On April 24, the 28-year-old hard-launched her relationship and engagement simultaneously with an Instagram post captioned, "I bet no one had this on their 2023 bingo card lol 💍." In an inteview with W Magazine the same day, she dropped the deets on her love story and how the March 3 proposal went down.
According to Cooper, the proposal itself wasn't a complete surprise, since she told Kaplan in November she'd "love to marry him," but she didn't know it was happening that day. Kaplan worked with the CHD team to create a fake photoshoot as an excuse to get Cooper done up in hair and makeup. She recalled wondering why everyone was "stalling" — little did she know what was actually going on.
Later, she came home (clad in her signature sweatpants) to a candlelit house and a computer set up with a scavenger hunt. The hunt took her throughout their house, with different themes in each room, like one in the kitchen with framed photos of their relationship "firsts." The final clue? A glass of champagne with a note to meet "down by the Buddha" — a statue in the couple's back yard. There, Cooper was met by Kaplan and their two dogs, surrounded by romantic candles and flowers. He popped the question, and Cooper *thinks* she said yes — "I like, blacked out...It was very surreal," she told W.
In terms of the wedding, Cooper wants a low-key event sometime next year with just her besties and family. Other than that, she hasn't thought much about her wedding aesthetic because she "did not grow up ever envisioning a wedding." (The CHD host said her relationship with Kaplan was what changed her mind about marriage.) She joked that people are telling her she "can't wear sweatpants" to the big day — but the Daddy Gang called the comfy engagement moment iconic.
Now that their relationship is public, will Kaplan be a podcast guest? Cooper said that for now, he wouldn't be in a full episode, but she added, "Never say never."