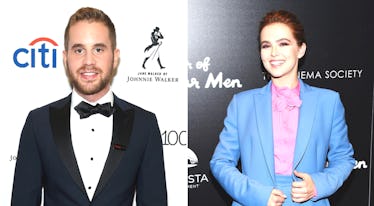 Zoey Deutch Is Joining Ben Platt In A New Netflix Musical Comedy From The 'Glee' Team
Ben Gabbe/Getty Images, Nicholas Hunt/Getty Images
Ryan Murphy is making another musical TV show, and the cast that is just starting to come together will have you so pumped. Zoey Deutch and Ben Platt will star in The Politician on Netflix, per a new casting announcement from Variety, along with three more newly announced cast members. The series is reuniting the creative team behind Glee, and it will serve as Ryan Murphy's second foray into musical television since the teen singing juggernaut.
The Politician was first announced back in February, with Ben Platt confirmed to star and executive produce the new series, but now a whole string of new cast members have been announced. Most notably, Zoey Deutch is joining the series in presumably a lead role, although her character has not been revealed yet. Deutch has worked with Netflix previously as the star of the streamer's recent rom-com Set It Up. Along with Deutch, Laura Dreyfuss, Lucy Boynton, and Rahne Jones have also been cast in undisclosed roles. Dreyfuss seems like a perfect choice for The Politician, since she starred in Glee's final season as Madison McCarthy and starred alongside Ben Platt in the hit Broadway musical Dear Evan Hansen. Boynton starred in Netflix's psychological thriller series Gypsy and will next appear in the Queen biopic Bohemian Rhapsody. This will serve as the television debut for Rahne Jones.
There are also two massive names circling The Politician as potential costars. Barbra Streisand and Gwyneth Paltrow are both in talks to star in the upcoming series as well, marking the first time either Oscar-winning actress would take a regular role on a TV series.
The Politician will center on Ben Platt's character of Payton, who is described as a wealthy resident of Santa Barbara with political ambitions. Netflix has already picked up the series for two seasons, and each season will focus on a new political race that Payton is running in. The show has been described as a one-hour comedy with social commentary, which hints that it will be making jabs at the current political climate. It will also feature characters breaking out in song, similarly to Ryan Murphy's hit series Glee.
Since finding success as the showrunner on Glee, Ryan Murphy notably turned from musical television to another fresh and innovative take on TV: anthology series. Murphy is currently continuing three of his anthology series: American Horror Story, American Crime Story, and Feud. His acclaimed ballroom series Pose also recently got renewed for a second season. The Politician is one of the first shows that Murphy is creating under his new exclusive deal with Netflix, alongside the upcoming series Ratched, which will star frequent collaborator Sarah Paulson as the villainous nurse from One Flew Over the Cuckoo's Nest.
It is too early to tell exactly when The Politician will be premiering on Netflix, but now that a good chunk of the cast has been announced, the show could be entering production sometime in the coming months. Hopefully, we will be able to watch it in 2019.