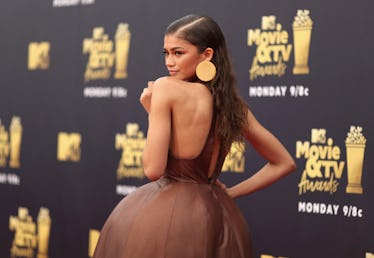 Zendaya Is A Walking Chocolate Fountain At The MTV Movie Awards, So Please Pass A Strawberry
Christopher Polk/Getty Images Entertainment/Getty Images
I dressed up as a Hershey's Kiss once. It was adorable. I was in preschool and my mom dressed me in this homemade costume — it was a silver A-line dress stuffed with batting, she paired it with white tights, and a pointed silver hat with a white ribbon poking out the top. It was my favorite costume ever — I even wore it a few years in a row. Though my preschool Halloween costume could never compete, Zendaya's 2018 MTV Movie Awards look had a similar vibe to it and I'm not the only one who thinks so either.
The actress and singer stepped onto the red carpet in the most darling chocolate brown leather August Getty Atelier dress. The bodice fit her perfectly with a high neckline and racer front cut. Now, for the skirt: It flared straight out from her natural waistline and bubbled into a rounded shape (it kind of reminds me of Pharell's Vivienne Westwood hat, without the brim), which is as fun and age-appropriate as it is sexy. To make her already-long legs look even longer, she paired her brown dress with chocolate-colored pointed-toe pumps. Zendaya finished her look with statement gold shield Paula Mendoza earrings, monochromatic makeup, and wet-looking hair.
But by far the best description of this look comes from Zendaya herself. She posted on her Instagram a photo of herself on the MTV Movie Awards red carpet with the caption, "Lookin like a fine ass unwrapped, caramel filled Hershey's kiss." Yasss, Zendaya, own it! She looks incredible and she knows it. Her version of a Hershey's Kiss is much cooler than mine, but it's inspiring me to bring back my throwback costume this Halloween, without the tights.
And in case you're wondering how she made it to the award show, not to mention, how she sat the entire night in this leather number, her hairstylist Ursula Stephen captured the cutest moment of Zendaya struggling to sit in the car she got picked up in. I love how she confidently walks up, steps in, and realizes this will need some adjusting and tactful sitting. She tries again, and before the door closes, you see her leaning back and readjusting. In case you ever needed proof it really is a tough job, here you go.
As for her hair and makeup, Zendaya is not one to shy away from experimentation. I'm still obsessing over her red Joan-of-Arc inspired 'do from the Met Gala, and I'll never get over when she wore dreadlocks to the Oscars. But no matter what the young star decides to wear (ever), she's a kills it every time.
This time though, she went with something natural and super fresh looking. To get that wet-hair look, Ursula Stephen ran a quarter-sized amount of Suave Professionals Avocado & Olive Oil Smoothing Leave-In Conditioning Cream ($3; Walmart) throughout damp hair, followed by a generous spritz of Dove Style+Care Smooth & Shine Heat Protection Spray ($4; Walmart) all over to help smooth the hair and combat frizz while adding a layer of heat protection. Then, part hair to the side and work a gel from roots to mid-lengths in small sections to ensure each strand is coated before combing it down and behind ears. Next, she used the GHD Air Hair Dryer ($150; ghdhair.com) and the diffuser attachment to diffuse the hair in place until it was completely dry. To complete thee look, she used the TRESemmé Keratin Smooth Shine Serum ($5; Walmart) and TRESemmé Compressed Micro-Mist Hair Spray Hold Level 2: Smooth ($5; Target) to add shine and hold.
As for her makeup, she paired a matte foundation with a natural-looking daytime smokey eye (aka a brown smokey eye), impeccably groomed brows, and a glossy lip. If you thought a Hershey's Kiss was sweet, that's only because you just hadn't seen Zendaya's look yet.