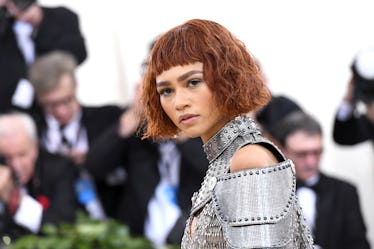 Zendaya Will Star As A Drug-Addicted Teenager In The New HBO Show 'Euphoria'
Noam Galai/Getty Images Entertainment/Getty Images
Zendaya has become known for fun and uplifting roles, translating her Disney Channel beginning into feel-good flicks like The Greatest Showman and Spider-Man: Homecoming, but she is taking a dark and gritty turn for her next big role. Zendaya will star in the new HBO series Euphoria, per the Hollywood Reporter, and it will feature the actress in a way that we have never seen her before.
Zendaya has just been cast as the lead in Euphoria, an upcoming HBO drama that will revolve around the lives of a group of teenagers struggling with dangerous issues — think Skins or 13 Reasons Why, but even grittier since this is HBO, after all. The series has cast 12 actors to fill out its ensemble cast of teen characters, and Zendaya will play the lead role of Rue, a deceitful 17-year-old who is addicted to drugs. Rue is the narrator of the show, but apparently she is a very unreliable one since she is prone to lying. The part of Rue will definitely be the most dramatic and darkest acting role that Zendaya has taken in her career, which should be exciting for her fans. The dramatic HBO role also carries the possibility of Zendaya nabbing her first Emmy or Golden Globe nomination if Euphoria is a success.
HBO's Euphoria is adapted from a 2012 Israeli TV series of the same name, which aired for only 10 episodes. The original series was based on the true story of a teenager who was murdered outside of a club, and chronicled the lives of the other teen clubgoers as they used drugs, sex, violence, and other dangerous means to escape reality following the tragedy. HBO execs have described the cable network's adaptation of Euphoria as "Kids meets Trainspotting. And what might exist when parents don't exist." Of course, both of those films are best known for depicting heavy drug use and tons of sex, so fans can expect this new show to be far from Zendaya's Disney Channel past.
Along with Zendaya as Rue, HBO also announced the rest of the cast that will comprise the teen stars of Euphoria: Maude Apatow, Brian "Astro" Bradley, Angus Cloud, Eric Dane, Alexa Demie, Jacob Elordi, Barbie Ferreira, Nika King, Storm Reid, Hunter Schafer, and Sydney Sweeney. The series is being written by Sam Levinson, who has previously worked with HBO as the writer of last year's Bernie Madoff biopic Wizard of Lies, and is also writing a directing the upcoming teen crime drama Assassination Nation.
Euphoria will mark HBO's first real foray into the teen dramas, which have been a hit for almost every other major network in the past. Riverdale and 13 Reasons Why have found huge success on the CW and Netflix, while Hulu has put up its own ensemble teen drama with The Runaways, Freeform had Pretty Little Liars, and MTV had Teen Wolf. The current teen drama boom goes back to when the genre first exploded onto network television in the '90s and 2000s, with now-iconic shows like The O.C., Buffy the Vampire Slayer, My So-Called Life, One Tree Hill, and Gossip Girl.
Although pretty much every major network has put up one or more teen dramas over the past couple of decades, HBO has stood apart as the only one to stay strictly within the adult realm. It will definitely be interesting to see how a teen show will fare on HBO, and how Zendaya will channel a drug-addicted, gritty part for the new series. There is no premiere date announced for Euphoria yet, but look out for it to premiere sometime in 2019.