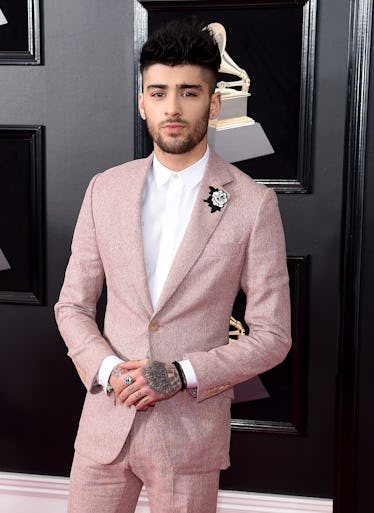 Zayn Malik Just Dyed His Hair Again & The New Color Has Me Blushing Hard
Jamie McCarthy/Getty Images Entertainment/Getty Images
We've now officially seen all of the (hair) colors of the rainbow (and then some) now that Zayn Malik's new pink hair has blessed our feeds. On Thursday, July 26, the former One Direction member debuted his fresh neon locks to the digital world with an Instagram post showing he has ditched the blonde look we saw him rock earlier this month and has moved on to bigger and brighter things.
It's clear that Zayn has been spending his sweltering summer days making sure to heat up IG with a handful of colorful hair hues. Over the course of the past few months we've seen the "Dusk Till Dawn" singer change his hair up from lime green to lavender to silver to bleach blonde to his natural dark brown and, now, to pink.
However, this isn't actually the first time we've seen Zayn, who is naturally a brunette, don a bright pink mane. In fact, he popped up in early 2016 with bright pink hair, eventually letting it fade to a lighter, bubblegum pink, leaning hard into the unicorn hair trend that was happening at the time. This time, he debuted a similar shade of neon pink, making sure to keep his dark roots and only cover the tips of the hair in color.
In addition to the new neon strands, Zayn paired the look with a pair of very trendy tiny sunglasses, red pants, and a t-shirt that reads "Kinda hungry, kinda horny, kinda tired, kinda wanna get a tattoo." If I'm being honest, I don't think I've ever related to a shirt more in my entire life.
Over the years, it's been no secret that Zayn isn't afraid of a little hair transformation. In recent years, we've seen him sport everything from blue and purple to black with blonde highlights. If you're a true Directioner, you'll remember the very first time we saw Zayn play around with color in his hair, debuting a single blonde stripe amid his dark locks.
For every hair color change that we've seen Zayn rock, we've seen about the same amount of different haircut styles on the "I Don't Wanna Live Forever" singer. Seriously, Zayn has rocked just about every short haircut imaginable, from a buzz cut to a low fade to a taper fade to messy and long — and just about everything else in between.
While I personally love a man who has no problem changing up his look, some of Zayn's fans and followers on Instagram seem to have mixed feelings about his reveal of yet another hair color. One follower commented, "Are you like trying the break the world record to see how many times you can change your hairstyle in a year something??" That commenter obviously didn't follow Kylie Jenner during her hair-dying heyday, though, because I have a feeling she might actually hold that record. Still, most of his fans are obsessed with the new 'do, with another person commenting, "Malik on fleek." And regardless of the mixed emotions over Zayn's hair, I think one opinion we can all agree on is that his shirt is an entire mood.
While some speculated in the past that Zayn's previous platinum dye jobs may have been indicative of changes in his relationship status, the singer changes his hair so often that I think we might have to chalk this new pink hair up to being just fun dye job for Zayn.