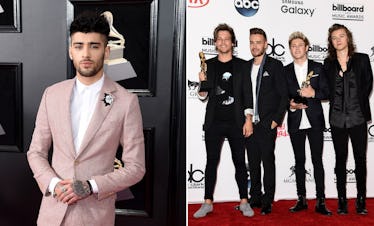 Zayn Malik Explained Why He's Not Friends With One Direction Anymore, So Prepare To Sob
Jamie McCarthy/Jason Merritt/Getty Images Entertainment/Getty Images
When you think of boy bands, you think of a group of guys who are talented AF becoming best friends because of their love for singing and being ultra-famous. So the same would be thought when thinking about One Direction, right? I mean, how could Niall Horan, Liam Payne, Harry Styles, Louis Tomlinson, and Zayn Malik not be BFF's? Well, according to Zayn Malik, that wasn't the case, and I'm both surprised and saddened about that news. Yup, Zayn Malik's comments about not being friends with One Direction will make you question everything you've ever known and loved.
In the December issue of British Vogue, the former One Direction band member reveals that he didn't make a single friend before quitting the band back in March 2015. I find this to be both heartbreaking and also, quite frankly, confusing (is it just me, or did they all seem happy performing together — in the beginning, at least?).
After Malik's revelation of not making a single friend from the group, he says, "I have always been a bit like that, though – always a bit of an island. I don't like to confer with too many people."
Sad face.
After asking if he still catches up with his former bandmates, Malik answers, "Nah. I ain't spoke to any of them for a long time, to be honest with you. That's just the way it is. There's things that happen and things that were said after I left... Snide things. Small things that I would never have expected."
Don't leave us hanging, Zayn! We want the tea!
Malik sort of gave insight into his lack of relationships with his former bandmates, as well as how it affected his mental health. He told the magazine,
We went from theaters, to arenas, to stadiums. There was never any sort of bridge between. Just boom, boom, boom. I guess that kind of progression to any mind — but especially when you're 17, 18 — it kind of affects you a little bit. People take it different ways — especially when there are five different personalities, The relationships had broken apart.
Double sad face.
How can this possibly be true? They all looked so... in sync with each other, you know?
To be fair, though, we heard from Malik way back in 2016 about whether or not he still keeps in touch with his former bandmates, and even back then, he was pretty much a lone wolf.
Malik revealed to music magazine NME that the only person he kept in touch with was Liam Payne.
"I'm still probably the closest to Liam," he told NME. "We talk on the phone. He congratulated me on my single, which was nice. I congratulated him on his Brit Award. It was a good chat. We haven't met up in a long time so we want to meet up."
I guess that meetup never happened, which is a bummer.
But, even though he clearly doesn't have an existing relationship with Horan, Payne, Styles or Tomlinson anymore, there is one person who he's getting along with swimmingly, and that's supermodel girlfriend Gigi Hadid, with whom he's had an on-again, off-again relationship with (which is back on again, thank God).
"Everything is great. She's super-organized and I'm really not," Malik admits. "It helps that she can get things together for me a little bit. I lean on her a lot."
So, while it's not a love-fest with his former 1D bandmates, at least Malik is feeling the love for someone... and she just happens to be absurdly beautiful and famous, much like Malik himself.
I could honestly watch this GIF all day.
So there you have it, friends. Zayn Malik made zero friends during his time in One Direction, and now your formative years are probably ruined.